Jillian Michaels, Daytime Emmy-nominated television personality and one of the nation's leading health and wellness experts, has joined The Humane Society of the United States for a billboard campaign to encourage consumers to avoid supporting puppy mills this holiday season, and to help rescue dogs by adopting from shelters or rescue groups.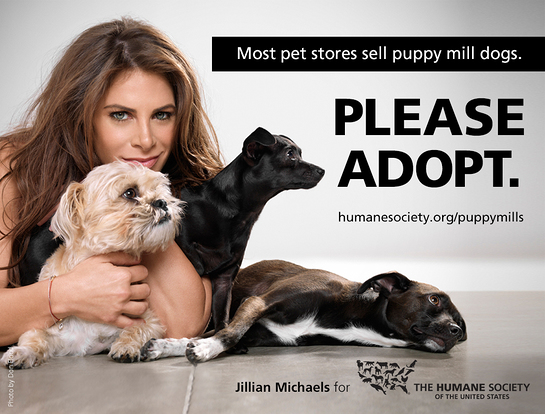 The ad, which includes both billboard and online versions, stars Jillian's rescued dogs, Harley, Richard and Seven, and was photographed by renowned celebrity photographer, Don Flood.
The billboards will start appearing at the beginning of December, with the goal of reaching holiday shoppers.
Purchasing dogs from pet shops and flea markets, as a recent undercover investigation in Texas conducted by The HSUS reveals, often helps keep puppy mills in business. Puppy mills not only contribute to pet overpopulation, but they are often filth- and disease-ridden breeding factories where animals are treated inhumanely.
Michaels said: "When I first learned about puppy mills, I was horrified and I knew that I needed to do something. Dogs shouldn't be constantly impregnated, confined and forced to live in their own excrement. I am grateful for the opportunity to help The Humane Society of the United States in its efforts to stop this in our country."
The HSUS encourages anyone looking to provide a forever home for an animal to adopt from a local shelter or rescue group, or find a responsible breeder by visiting humanesociety.org/puppy. To join Jillian and The HSUS in combatting cruel puppy mills, please visit humanesociety.org/puppymills.