The Duke of Cambridge rocked out at a charity event as he came face-to face with rock royalty Jon Bon Jovi and pop star Taylor Swift – and performed an impromptu rendition of Living On A Prayer.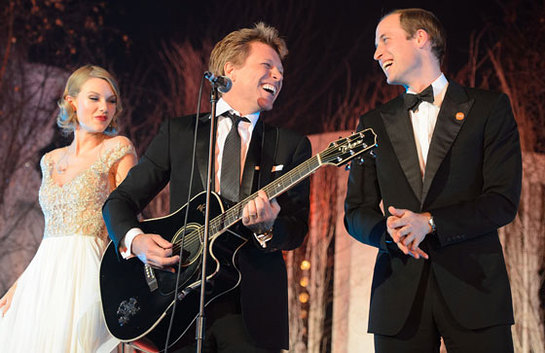 The trio were the main attraction at the Winter Whites Gala in Kensington Palace on Tuesday to support homeless charity Centrepoint.
The Duke met rock star Bon Jovi and American pop star Swift in the Kings Gallery at the State Apartments before hitting the red carpet, which was actually blue in line with the night's winter theme.
But the night ended on a high note as, dressed in full dinner suit and black tie, The Duke took to the stage alongside the performers at the finale of the event to belt out the rock classic at the gala event.
Throughout the evening, The Duke met young people that Centrepoint has been supporting through housing and other opportunities – and joked that he was going to twerk.
Swift, who performed hits Trouble, Love Story and 15, said she was honoured to perform at the palace.
"This is my first time playing at Kensington Palace or any palace for that matter," she said. "I want to thank you for having me Prince William, this is just amazing."
Swift said it was important the gala concert was supporting at-risk youth, given they were dealing with more than most people were at what was already a difficult age.
Other guests at the event included Benedict Cumberbatch, James Blunt and Tinie Tempah.
Gala convenor Danielle Alexandra said the event took six months to create.
"But really it all comes down to the prince, who is a remarkable man," she said. "He wanted to do whatever he could to help the cause."
The Duke, who has been a patron of the Centrepoint charity since September 2005, presented the Centrepoint Great Britain Youth Inspiration Award to Bon Jovi for his humanitarian work.
Bon Jovi, who also performed, founded Soul Foundation in the United States in 2006 which aims to break the cycle of people falling into poverty and homelessness by helping them gain access to food and affordable housing along with job training programmes.
Bon Jovi said: "Nights like this happen once in a lifetime but the chance to affect change can last a lifetime.
"Each one of you tonight have that chance to affect change."
Centrepoint works with hundreds of young people to help them tackle issues that can lead to homelessness.
Source: dukeandduchessofcambridge.org