MPTF has announced that the Sumner M. Redstone Charitable Foundation has made a $20 million gift to the Motion Picture & Television Fund (MPTF) Campaign.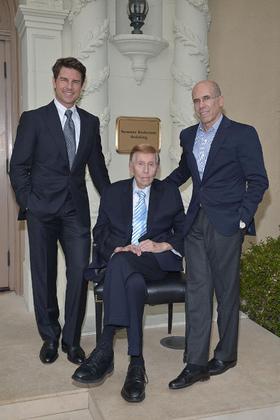 Sumner Redstone is Executive Chairman of the Board of both CBS Corporation and Viacom Inc.
Mr. Redstone's gift brings the current total of the $350 million MPTF Campaign, launched in February 2012, to just over $300 million. The Campaign was created to build permanent funding for the broad range of social and charitable services that MPTF provides to more than 15,000 entertainment industry workers and their families each year.
"For more than two decades Sumner Redstone has been one of the most generous supporters of MPTF and now with this extraordinary gift to the Campaign, he is providing for future generations in the entertainment community who need the help, support and services of this extraordinary organization. I have admired Sumner as one of our industry's great entrepreneurs and business leaders as well as philanthropists," said Jeffrey Katzenberg, Chairman of the MPTF Foundation, "and cannot thank him enough for giving back so generously."
Actor Tom Cruise – a longtime supporter of the Motion Picture & Television Fund – was on hand when the donation was announced.
Mr. Redstone said, "My life's work has been fueled by my passion for the entertainment industry. At its essence, motion pictures and television programming are wonderfully collaborative enterprises that bring together the talents and skills of many individuals. For me, it is a privilege to help provide essential services for those who truly drive this industry, so they can continue to focus on bringing entertainment magic to so many around the world. I am proud to support the MPTF, a remarkable organization led by some of Hollywood's leading lights, in its long-term commitment to the film and television community."
"As we develop our strategic vision for the future, we know that over the next few years there are approximately 75,000 industry workers who will be retiring and many will need our assistance," said Bob Beitcher, MPTF President and CEO. "MPTF is poised to be the major safety net for our industry thanks to the success of this Campaign."
Beitcher added that MPTF also helps the young industry worker who hits temporary crisis through a support network of 16 social workers, some of whom are located in each of the MPTF Health Centers located around southern California.
"We want our industry to know MPTF should be the first place they call when they are in need of help," Beitcher said.