Earlier this year, UNICEF UK Ambassador and global TV personality, Cat Deeley, travelled to India to witness how the futures of adolescent girls are being transformed by the Building Young Futures programme.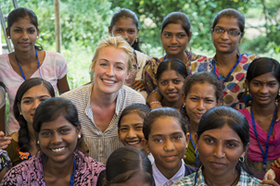 The programme is a Barclays and UNICEF initiative which is empowering young people to fulfil their potential by equipping them with the confidence and financial and business skills they need to build a stable future for themselves and their families.
Almost a quarter of the world's youth are unemployed; and this is clearly seen in India with rising youth unemployment figures significantly higher than adults.
Life can be particularly hard for young women as they face the challenge of limited opportunities of employment teemed with discrimination, early marriage, violence and poverty.
Cat visited young women in the urban slums of Mumbai and rural villages of Chandrapur to see how the Building Young Futures programme, locally known in India as Deepshikha, is teaching young women that they are equal to men, whilst providing them with the skills they need to overcome the daily challenges and become strong, financially independent women.
The programme, which has so far reached 65,000 young women in India, is a collaboration between UNICEF and Barclays. Barclays funds and helps manage the programme whilst their staff help train young women in business and financial skills.
In addition, young women, known as prerikas, are equipped with the knowledge they need to run their own training programmes with other girls in their communities, empowering even more young women with the skills and confidence to become financially independent.
Find out more about the Building Young Futures programme amd read about Cat Deeley's visit to India here.
Source: UNICEF UK