Actor and activist John Savage (best known for "The Deer Hunter") received a Golden Goody Award (aka Oscar for social good) for his humanitarian work on Sunday, December 15th, at the Malibu West Beach Club at a special Typhoon Haiyan holiday fundraiser hosted by actress/ humanitarian Cassandra Hepburn ("The Young and the Restless").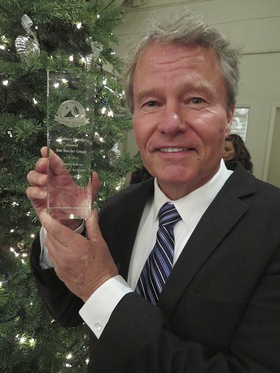 This event raised funds to help the 12 million impacted by Typhoon Haiyan and commemorated late actor Paul Walker for his humanitarian efforts for typhoon victims from co-star "Fast & Furious" actor Thom Barry. Paul Walker started REACH Out Worldwide who has also supported the victims of the Philippines typhoon.
Goody Awards founder Liz H Kelly presented their top award to John Savage by sharing, "John is an active humanitarian who you can find on every green carpet. In 2013 alone, we've seen him raising awareness for the environment and the oceans at Global Green, the "On Begley Street" Premiere, the Safety Harbor Kids Fundraiser, "The Carrier" Premiere and now at this fundraiser for typhoon victims. On top of all his charity work, John has 181 film credits, 10 films in post-production and just played the judge in the ION Holiday Movie "Defending Santa'."
John then accepted the Golden Goody Award with a heartfelt speech about how everyone in the world is connected together, and we can all help each other.
John's father served in WWII in the Marine Corps, and he also supports military films. Most recently, John narrated the film "The Carrier" that premiered on Veterans Day in Los Angeles. The film shows how our Navy is working to raise awareness about the ecology and set an example for our shipping and need to respect the ocean.
Event speakers were also given Hero Goody Necklaces from the Goody Awards as a thank you for being global citizens making a difference. The Master of Ceremonies was Academy Award winner actor Louis Gossett Jr. ("An Officer and a Gentleman") and speakers included actor John Savage ("The Deer Hunter"), actress Cassandra Gava ("Conan The Barbarian"), and actor Patrick Kilpatrick ("Minority Report".)
Because the Goody Awards' mission is to inspire positive change by recognizing good in the world, it was an honor to present this top award to John Savage. Previous winners of the Golden Goody Award have included Ian Somerhalder (Vampire Diaries and Ian Somerhalder Foundation), Louie Psihoyos, Director of Academy Award Winning Documentary "The Cove", Lucy Webb, Women In Film in Park City Chairman, and her committee at the Sundance Film Festival, Improv Comedy Founder Budd Friedman and Nobel Peace Prize Nominee Sir Nicholas Winton.
For more information on this event and to donate, visit SPAN RELIEF (Strategic Partners Among Nations) and Fusion Global & Ascend Malibu Fellowship. And to honor your hero, send them a Hero Goody Necklace.
Source: PRWeb.com