Musician and animal advocate Moby speaks up for shelter pets in his touching new lyric video for "Almost Home", a collaboration with Damien Jurado from Moby's album Innocents released on Oct. 1, 2013.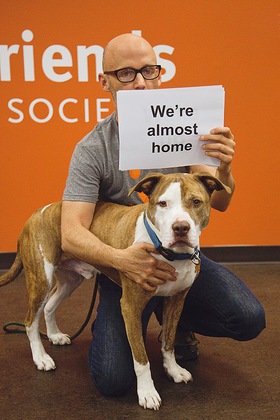 Holding up lyrics from the song, Moby is clearly in his element while interacting with homeless dogs and cats from the Best Friends Pet Adoption and Spay/Neuter Center in Mission Hills, Calif., many of whom return his affection on camera.
The minimalist, near-zero dollar budget video is being released during this season for a reason.
"It's always a good time to adopt an animal from a shelter, but it seems like an especially good time to adopt an animal, as it's the holiday /Channukah / Kwanzaa / Saturnalia / Festivus / season," Moby said. "So, I hope you like the video, and I hope you're able to provide a home for a dog or cat (or gerbil or snake or any other shelter animal) this season."
Marc Peralta, executive director of Best Friends Animal Society – Los Angeles, commented on the exposure that "Almost Home" provides for the 400 dogs and cats currently awaiting adoption at the Center.
"The sad truth is that more than 9,000 dogs and cats are killed every day in U.S. shelters simply because they have no safe place to call home," Peralta said. "By showcasing shelter pets to such a vast national and international audience, Moby is an amazing voice for these wonderful dogs and cats. He beautifully illustrates how, as a community of animal lovers, we can work together to Save Them All."
As an incentive for holiday adoptions, the Best Friends Pet Adoption and Spay/Neuter Center is offering $25 "Adopt 'Til You Drop" pet adoptions at its center and the six Los Angeles Animal Services Shelters every weekend through Jan. 6, 2014. All pets are micro-chipped, vaccinated, and spayed or neutered prior to adoption. For more information, visit www.bestfriends.org/la.