St. Baldrick's Foundation and Stand Up To Cancer (SU2C) will unveil a new print and broadcast public service announcement featuring actor Samuel L. Jackson.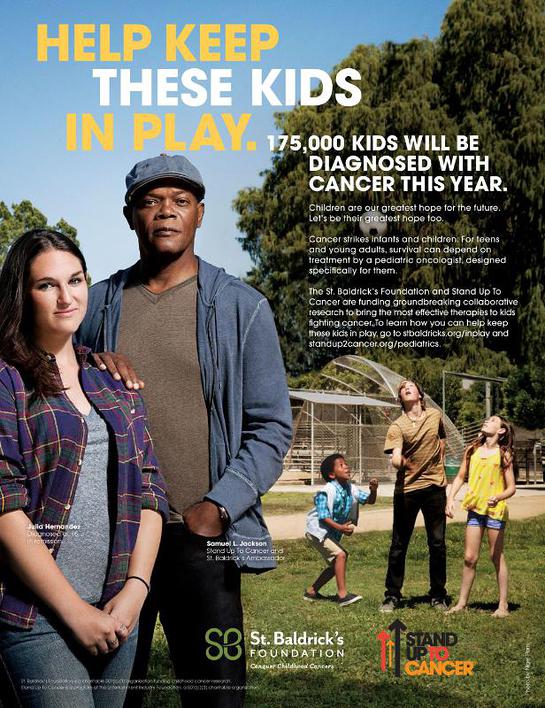 The PSA, entitled "In Play," is designed to increase awareness about childhood cancers and the critical importance for infants and children, and in particular teens and young adults with childhood cancers, to be treated by pediatric oncologists. Survival for teens and young adults is far greater when treated on pediatric cancer protocols.
The campaign will also highlight the need to support the best pediatric cancer research that will deliver cures and better treatments with fewer harsh side-effects and long-term complications for survivors. Each year, more than 175,000 children are diagnosed with cancer worldwide, and in the U.S., cancer is the number one disease killer of children. The St. Baldrick's Foundation and SU2C are working to change those statistics.
"When I was a child in the 1950s, most kids who got diagnosed with cancer had little chance of survival. Now, there is hope," said the Academy Award-nominated Jackson. "I am honored to join Stand Up To Cancer and the St. Baldrick's Foundation to help educate people about childhood cancer and the importance of seeing a pediatric oncologist." Samuel L. Jackson is an award-winning actor and film producer. He has appeared in more than 100 movies and is the highest grossing film actor in history. His movie credits include such blockbusters as Pulp Fiction, The Avengers, Die Hard with a Vengeance, The Incredibles and the Star Wars prequel trilogy, among others.
"Samuel L. Jackson is a powerful actor and has played some seriously tough guys," said Kathleen Ruddy, chief executive officer of the St. Baldrick's Foundation. "It seems very fitting that we have someone with his level of intensity and power speaking out against childhood cancers, which are seriously tough diseases. We are grateful to him for getting the message out that childhood cancer patients – even those who are teens and young adults – must be seen by pediatric cancer specialists for the best chance at survival."
Jackson is joined in the PSA by four St. Baldrick's Honored Kids, all of whom have had – or are still fighting – cancer. Along with their families, they serve as advocates to raise awareness for childhood cancer and the critical need for research funding, bringing hope and inspiration to countless St. Baldrick's volunteers and supporters. The Honored Kids who appear in the PSA are Avery, 10, who's stable; Aiden, 11, who's currently cancer-free; William, 14; and Julia, 19, who are both in remission.
SU2C President and CEO, Sung Poblete added: "We are grateful to Samuel L. Jackson for lending his support to this extremely important campaign. While great progress has been made in the battle against childhood cancer, the sad fact remains that one in five children diagnosed in the U.S. will not survive. Through the creation of the St. Baldrick's-Stand Up to Cancer Dream Team, we are making progress in the fight against childhood cancer research."
Earlier this year, SU2C and the St. Baldrick's Foundation announced the formation of a Dream Team dedicated to childhood cancer research. The SU2C-St. Baldrick's Pediatric Dream Team Translational Cancer Research Grant will provide $14.5 million in funding over four years for this innovative project that is uniting researchers in two highly productive disciplines of translational pediatric cancer research that historically functioned independently – genomics and immunotherapeutics.
The Dream Team is led by John M. Maris, M.D., director of the Childhood Cancer Research at The Children's Hospital of Philadelphia; and Crystal L. Mackall, M.D., chief of the Pediatric Oncology Branch of the National Cancer Institute (NCI) in Bethesda, MD.
Researchers on this Dream Team represent seven institutions: The Children's Hospital of Philadelphia, The National Cancer Institute (NCI), the University of British Columbia, Baylor College of Medicine, The Hospital for Sick Children in Toronto, Seattle's Children's Hospital and the University of Wisconsin. While researchers at the NCI, part of the federal government's National Institutes of Health, will be participating fully as members of the Dream Team, in accordance with policy, no funds from the grant are going to the NCI.
The joint venture between the St. Baldrick's Foundation, the leading non-governmental provider of childhood cancer research grants, and SU2C, formed in 2008 to accelerate innovative cancer research, has brought together two of the world's leading cancer research fundraising groups. Formation of the team, the first SU2C Dream Team focused solely on pediatric cancer research, will help fulfill the mission of both organizations to fund the most promising childhood cancer research that will ultimately enable survivors to lead long and healthy lives.
To learn more, visit SU2C or StBaldricks.org.