Prince Harry has been reunited with his fellow South Pole adventurers who revealed that he has a special skill essential for expeditions – latrine building.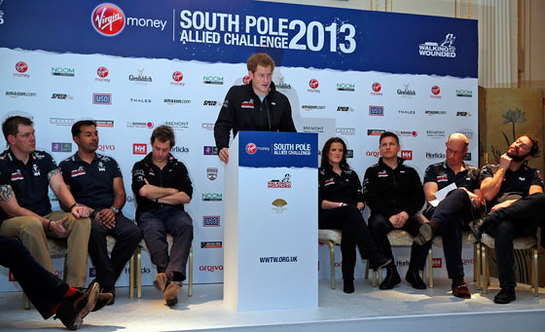 At a welcome home press conference, Prince Harry met up with some of the men and women with whom he trekked across the frozen wastes of Antarctica to reach the most southern point of the globe. Among those on the Walking With The Wounded South Pole 2013 expedition were 12 injured servicemen and women from the UK, US and the Commonwealth – and The Prince praised their efforts as an "unbelievable achievement".
Actor Dominic West took part in the challenge and joined the group that greeted The Prince when he arrived at a central London hotel. Prince Harry had shaved off his beard he grew during the challenge, but the British star was still sporting his dark beard. West said: "He was very much part of the team, he seemed to specialise in building latrines, he built this incredible castellated structure with blocks to keep out the wind and it even had a loo roll holder."
Surrounded by his fellow trekkers, Prince Harry spoke about the Walking With The Wounded charity that organised the challenge to the South Pole. He said: "Inspiring others is one of the corner stones of this charity, to demonstrate to those who have experienced life-changing injuries that everything is possible.
"I hope this truly unbelievable achievement by everyone behind me, and back in America, Canada and Australia… will remind everybody that they can achieve anything that they want to.
"Our wounded, injured and sick do not want pity, they simply want to be treated the same way they were before they were injured – with respect and admiration."
The adventurers faced such extreme weather conditions during their 200-mile (322km) odyssey that organisers had to call off the competitive element of the trek. But working as one unit, the UK team and squads from the US and Commonwealth made it to their Antarctic goal together on Friday December 13.
Prince Harry could not resist joking about the British contingent reaching the South Pole first: "Team UK did win – we did – those are the facts, we had a chat and decided to give the trophy back and share it among everybody else – to the Australian contingent if they're watching, sorry."
His Royal Highness was the official patron of the gruelling trek and the challenge was filmed for a documentary that will be screened in the spring.
Source: PrinceHenryOfWales.org