Actress and UNICEF Ambassador Angie Harmon just returned from a visit to Nicaragua, where she traveled to bring attention to the horrors of child trafficking within the Central American country and across the globe.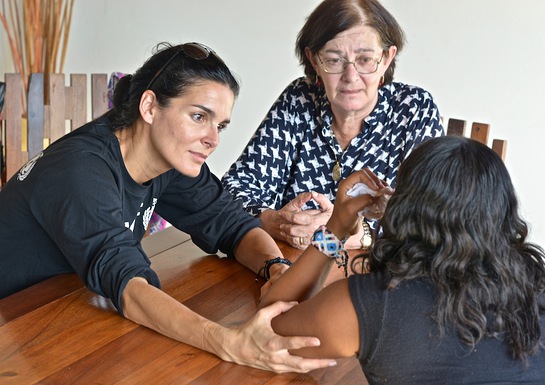 During her trip Harmon witnessed UNICEF programs to protect children from violence, exploitation and abuse and spoke with adolescent girls and boys about their experiences.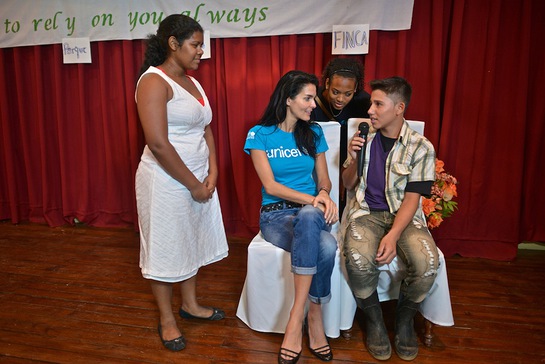 "In Nicaragua I met adolescents who have lived through some of the most horrific circumstances imaginable, including two 11-year-old girls who were sexually exploited," said UNICEF Ambassador Angie Harmon. "But I didn't see victims, I saw survivors. I was awed by their strength and by their desire to help not only themselves, but also their peers."
During her trip, Harmon travelled to the Northern town of San Lucas where she witnessed efforts to combat trafficking along the Honduran border and met children and adolescent leaders who demonstrated through skits, dancing, and artwork how they educate their peers. She also visited with youth mentors, church leaders, and life-skills counselors in Bluefields, a city affected by drug and human trafficking, and participated in a play about issues facing teens in the region. In Granada, the most visited tourist spot in the country, many children beg for food or money in the city center, increasing the risk for them to be sexually exploited and in the worst case, trapped by traffickers. While there, Harmon met with three adolescent survivors of sexual abuse or exploitation and heard their stories.
Within Nicaragua, children are subjected to sex and labor trafficking, and the country also serves as a source and transit point for trafficking into other Central American nations, Mexico and the United States. Girls are often recruited in rural areas for work in urban centers and then forced into prostitution. Nicaragua is a destination for tourists from the U.S., Canada and Western Europe, some of whom engage in commercial sexual exploitation of children. In addition, children are forced into working in agriculture, in the informal sector, and in domestic settings in Nicaragua and neighboring countries.
While the full extent of sexual exploitation and child trafficking in Nicaragua is not known, UNICEF is helping the country develop a real-time monitoring system for responses to commercial and sexual exploitation and is completing an analysis to obtain more accurate statistics associated with child trafficking. UNICEF's work on this issue in Nicaragua also includes training teachers, adolescents, community and church leaders, among others, to create a protective environment to prevent trafficking in their areas; supporting peer-to-peer mentoring and life-skills workshops for youth to protect themselves from exploitation and abuse; and strengthening the capacities of local networks and institutions to help survivors of sexual violence and their families recover and rebuild their lives.
"Nicaragua is a beautiful and very welcoming country. While the problems of trafficking seem daunting, the situation is far from hopeless. I saw real progress to protect children, including UNICEF programs which are empowering teens to improve their own lives and the lives of others in their communities," said Harmon. "The kids I met are unbelievably talented and driven. They've left me with great hope for the future."
Worldwide, an estimated 5.5 million children are victims of trafficking, an illegal enterprise that generates billions of dollars in yearly profits. Children make up a quarter of forced labor and human trafficking's global victims. Their childhoods stolen from them, they are bought and sold like commodities, and forced to work at grueling, dangerous jobs with little or no pay. Forced child labor occurs in the sex trade, in restaurants and bars, in the agricultural sector and tourism industry, in janitorial work, and in private homes.
To combat child trafficking, UNICEF works to reduce factors that place children and families at risk in the first place. The organization helps governments strengthen child protection systems; works to ensure that child victims are placed in safe environments and provided with social services, health care, and psychological support; supports the training of social workers, health workers, police and border officials to spot signs of trafficking and to treat children with dignity; and partners with communities and faith-based organizations to change harmful societal practices that increase children's vulnerabilities to trafficking.
Harmon's trip took place as part of the End Trafficking Project, the U.S. Fund for UNICEF's initiative to raise awareness about child trafficking and mobilize communities to take meaningful action to help protect children. The End Trafficking project works in partnership with individuals and groups to bring us closer to the day when there are ZERO exploited children. To learn more, click here.
In her first role after being appointed a UNICEF Ambassador in January 2013, Angie Harmon filmed a PSA and participated in media interviews to urge Americans to help end the inhumane practice of child trafficking. Most recently, she has called on her social media following to support UNICEF's emergency relief efforts for children in Syria and the Philippines and to participate in Trick-or-Treat for UNICEF, the iconic 63-year-old fundraising campaign.
An American film and television actress, Harmon currently stars on TNT's Rizzoli & Isles as the title character 'Jane Rizzoli'. She is best known for her starring role as Assistant District Attorney 'Abbie Carmichael' on NBC's Emmy-Award winning drama Law & Order.