The Prince of Wales attended The Prince's Trust Invest in Futures reception last week.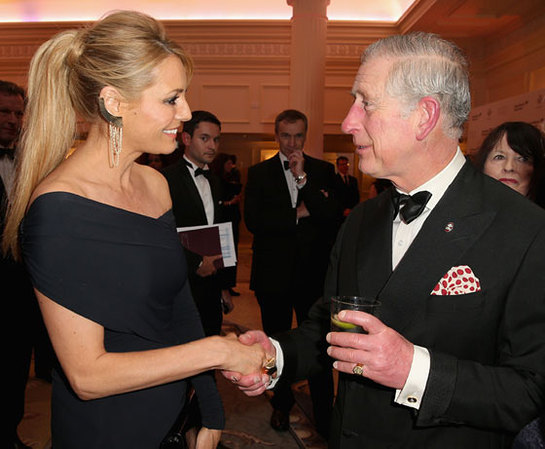 His Royal Highness attended the event along with actors Joanna Lumley and Rob Brydon, who were hosting the event for his charity The Prince's Trust.
At the event, which raised £1.2million for the charity last year, it was revealed that one man who turned his life around with The Prince's Trust has donated £100,000 to the charity.
Celebrities including interior designer to the stars Kelly Hoppen, rapper Tinie Tempah, TV presenters Philip Schofield, Tess Daly and husband Vernon Kay and singer Laura Mvula, who are all Prince's Trust ambassadors, also turned up to show their support.
Now an award-winning entrepreneur Duane Jackson, 35, grew up in children's homes in London's East End and by his teens he was already involved in a life of crime.
At 19 he was arrested at an airport in Atlanta in the US for drug smuggling and served a two year prison sentence for it back in the UK. He said: "On release from prison there was a big black hole on my CV. I couldn't get a job.
"I wanted to start a business but I couldn't afford a computer, business cards or a desk and that's where The Prince's Trust helped."
After getting a loan from the charity he was able to set up his own web developer business KashFlow, which provides accounting software for small businesses.
He is now starting to mentor other young offenders like him.
He said: "Making this donation to The Prince's Trust means the world to me. "They were there for me when I was at my worst – I was a young offender who was unemployed, with no qualifications and, having grown up in the care system, no family to offer financial or moral support.
"The Trust saw past all of that and helped me to see that I could be a success. I am delighted to be able to support the amazing work they continue to do with young people up and down the country."
During his speech The Prince said: "Duane is a classic example of what the business start up programme can do.
"The Prince's Trust has been going for 38 years now and it really is what I always hoped to create all those years ago."
Martina Milburn CBE, Chief Executive of The Prince's Trust, said: "Duane is one of The Prince's Trust's success stories, and we are incredibly proud of everything he has achieved.
"It is fantastic to see that he is now giving back to The Trust, and his extremely generous donation will help many more young people turn their lives around. He is a true inspiration."
Source: PrinceOfWales.gov.uk