In an effort to encourage children to spend more time outdoors and reconnect with nature, the U.S. Forest Service and the Ad Council are joining 20th Century Fox to launch a new series of public service advertisements (PSAs) featuring scenes and characters from the upcoming animated feature Rio 2.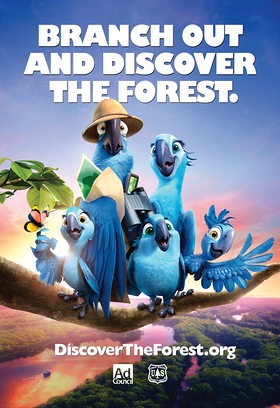 The PSAs are an extension of the U.S. Forest Service and Ad Council's Discover the Forest campaign and they're being distributed to media outlets nationwide this week.
Initially launched in 2008, the Discover the Forest campaign encourages parents and their families to get outside and experience the many benefits of the forest — fresh air, active play and beautiful scenery. The goal of the campaign is to instill a love for nature in children, ultimately creating a lifelong interest and legacy of stewardship through first-hand experience. Created by 20th Century Fox, the new PSAs feature the lovable Blu, Jewel, and their family of blue macaws on a journey to reconnect with their roots in the wilds of the Amazon, encouraging both parents and children to discover the adventure waiting in the forest.
Celebrity voices in the PSAs include Anne Hathaway, Jesse Eisenberg, Pierce Gagnon, Jamie Foxx, Rachel Crow, Amandla Stenberg, will.i.am, Bruno Mars and Andy Garcia.
According to the U.S. Forest Service, more than 245 million Americans live within 100 miles of a national forest or grassland, yet people aren't taking advantage of these natural spaces. With busy family schedules and technology capturing more of children's time these days, activities such as hiking, camping and fishing are not as common. Research has shown that children who play outside have lower stress levels and more active imaginations, become fitter and leaner, develop stronger immune systems and are more likely to become environmentally conscious in the future. According to campaign research done by Euro RSCG, 88 percent of children today say they like being in nature, and 79 percent wish they could spend more time there.
"We are excited to see such a loveable family film, Rio 2, promoting the importance of children experiencing nature firsthand," said U.S. Forest Service Chief Tom Tidwell. "These PSAs will reach a broad audience thanks to the film's popularity."
The PSAs encourage children and their parents to visit www.DiscoverTheForest.org where they can find ideas for outdoor activities and an interactive map tool — powered by Google and Nature Find — that enables users to search for nearby forests and parks. The campaign has an active social media presence, with over 7,000 followers on Twitter, and more than 20,000 fans on Facebook.
"These PSAs are a wonderful extension of our efforts to inspire children and families to experience the many wonders of the forest," said Peggy Conlon, president and CEO of the Ad Council. "I'm confident that both the media and the public will embrace these ads and help encourage families to spend time outdoors and reconnect with nature."
Per the Ad Council's model, all of the PSAs will air in advertising time and space donated by the media. Since the campaign's inception, media outlets have donated more than $183.8 million in time and space for the campaign.