In a nationwide fundraising effort to continue finding cures and saving children, Univision Radio, the leading radio network serving Hispanic America, helped raise $3.8 million for St. Jude Children's Research Hospital during the annual Promesa y Esperanza (Promise and Hope) radio event on Feb. 10-11.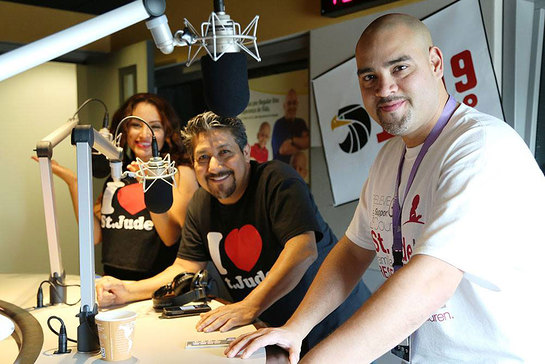 Hispanic radio listeners in Puerto Rico and 17 cities, including Los Angeles, Dallas, Miami, Chicago and New York tuned in to pledge their support to St. Jude by becoming Angeles de Esperanza (Partners In Hope) by making a donation of $20 per month.
"The children at St. Jude Children's Research Hospital are an extension of our Univision family. We are proud to share the St. Jude mission with the community we serve," said Randy Falco, president and CEO of Univision Communications, Inc. "Our audiences' generosity and kindness speaks to our shared values which ultimately benefits thousands of St. Jude patient families highlighted during this event and give hope to countless children worldwide."
During the more than 30 hours of programming over a two-day period, St. Jude patients like 9-year-old Jorge, who is fighting bone cancer, shared his story. Thanks to donations from Ángeles de Esperanza, Jorge and his family will never receive a bill from St. Jude for anything – because all his family should worry about is helping him live.
Treatments invented at St. Jude have helped push the overall childhood cancer survival rate from 20 percent to more than 80 percent since it opened 50 years ago. And St. Jude is working to drive the overall survival rate for childhood cancer to 90 percent in the next decade.
The St. Jude/Univision Radio event strengthens relationships with radio listeners, fans, artists and supporters who participate to help make St. Jude founder Danny Thomas' dream that "no child should die in the dawn of life" a reality.
"The support of Univision's incredible leadership, dedicated staff and compassionate audience is important to our success in finding cures and saving children," said Richard Shadyac Jr., CEO of ALSAC/St. Jude Children's Research Hospital. "For 15 years, Univision Radio has helped connect the Hispanic community to the mission of St. Jude, and each year we have seen how their listeners unite to help give hope to children and families battling some of the most aggressive childhood cancers."
The St. Jude Promesa y Esperanza radio event was supported by Univision's portfolio of media platforms, including its local television stations, online, mobile and social media outlets. St. Jude also launched an online Spanish-language video series that appeared globally on Facebook, Twitter and other social networking sites to promote the national effort. Fans also supported the nationwide event by using the official hashtag #StJudeUnivision.
Latin artists and Univision personalities who donated their time and talent to support these efforts included: Luis Fonsi, Luis Enrique, Chino y Nacho, Juanes, Ricardo Montaner, Maná, Olga Tañón, David Bisbal, Jencarlos Canela, Águeda López, Banda El Recodo, Roberto Tapia, Candela Ferro, Leslie Grace, Fanny Lú, Angélica Vale, Karen Martínez, Kany Garcia, 3Ball MTY, Las Cumbia Girls, Zuleyka Rivera, Franco de Vita, Estephy, Lupita Jones, Karla Monroig, Kevin Ortiz, Régulo Caro, Fernando Carrillo, Gretchen, Darian Alvarez, Anna Sobero, Carlos de la Mota, Ana Isabelle, Banda Los Recoditos, Melina León, Montez de Durango, Victoria Ortiz "La Mala", Jaime Mayol, Pedro Capó, Juan Pablo Galavis, Wisin, Gloria Ordaz, Christian Acosta, Benavides, Santaye, Grupo Control, Gabriel Valenzuela. Other personalities who participated were: Javier Romero of Desayuno Musical; Dra. Isabel and Hellen Aguirre Ferré of Univisión América, Raúl Brindis of El Show de Raúl Brindis, Alberto Sardiñas of Intimo, Enrique Santos of El Show de Enrique Santos, Omar Velasco and Argelia Atilano of El show de Omar y Argelia's; Raúl Molinar, Sylvia del Valle; and Andrés Maldonado of El Bueno, La Mala y El Feo, Raúl Gonzalez, Karla Martínez and Satcha Pretto of Despierta América and Pamela Silva Conde of Primer Impacto.
Source: Multivu.com