On Monday, March 3 Get Schooled and the California Student Aid Commission (CSAC) recognized the students and staff at Sacramento Charter High School for their proven commitment to college success with a star-studded celebratory event.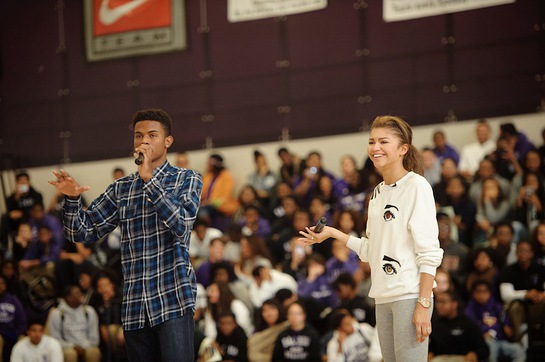 As part of a friendly competition sponsored by Get Schooled and CSAC, 96 percent of all Sacramento Charter High School seniors applied to three or more colleges and every student at Sacramento Charter High School participated, encouraging all students to start planning for the future.
Held at Sacramento Charter High School, the day's activities included a rally hosted by Zendaya, a dance clinic and community recognition of college acceptances. Zendaya is a quadruple threat: a top-selling recording artist, author, actress and dancer. Zendaya said, "I'm proud to have the chance to celebrate with the Sacramento Charter High School community and the investment they made in themselves and their futures."
This fall, Get Schooled, a national non-profit, and CSAC, the primary state agency administering state-authorized financial aid programs for students, sponsored the California College Campaign, a three-month competition involving 70 high schools across California aimed at improving college readiness and elevating awareness among all high school students about the importance of applying to multiple colleges. A study released by Harvard University in 2013 Small Differences that Matter: Mistakes in Applying to College, Amanda Pallais, 2013 suggests that students who apply to more than one college are more likely to attend a college that best matches their interests and academic strengths, thereby increasing the likelihood that they will ultimately earn a postsecondary degree or credential.
Sacramento Charter High School's student council spearheaded the effort by mobilizing their peers to participate in the competition and apply to college. As a result of their efforts, Sacramento Charter High School students seized the top prize, coming together to achieve a 100 percent participation rate in activities such as chats with college experts and college exploratory sessions. Most importantly, 96 percent of its graduating seniors applied to four-year colleges and universities. The friendly competition was supported by the California Endowment and USA Funds.
"Sacramento Charter High School is an example of what can happen when an entire community comes together to support students in reaching their goals," said Marie Groark, executive director of the Get Schooled Foundation. "Get Schooled and CSAC are excited to show the school community that their hard work and commitment to creating positive futures did not go unnoticed."
The school will use the $5,000 grant to provide college scholarships for their seniors and summer college enrichment program scholarships for their 9th – 11th graders.
"Our goal is to have 100% of our graduates go on to a four-year college. So far this year, 92% of our seniors have been accepted to at least one four-year college, which is the highest rate of college acceptances in our school's history," said David Marks, College Counselor at Sacramento Charter High School. "We're grateful for the momentum Get Schooled has given us to generate enthusiasm and excitement among our students to reach our college-going goals."
A second competition hosted this year by Get Schooled and CSAC wrapped up last week, with 45 California high schools competing to post the highest levels of student engagement around financial aid awareness and the Free Application for Federal Student Aid (FAFSA) and California Dream Act (CADA) completion. Get Schooled and CSAC will announce the winners of the Spring Campaign later in March and will host a similar star studded celebration later this Spring.