Action star and famed stuntman Jackie Chan turns 60 years old next week and he's celebrating this milestone with a charity concert in Beijing on April 6th where he will recognize the work of many of the humanitarian organizations he sponsors, including Operation Smile.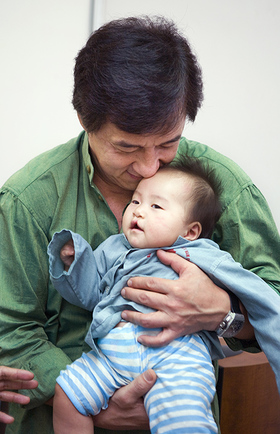 Operation Smile Co-Founders, Dr. Bill and Kathy Magee will take the stage during the 2014 Peace & Love & Friendship concert to celebrate Chan and to spotlight the celebrity's support of Operation Smile and its efforts to treat children with cleft conditions and other facial deformities worldwide.
"Jackie is a dear friend and an enthusiastic supporter of Operation Smile," said the organization's CEO & Co-Founder, Dr. Bill Magee. "Jackie has played an integral role in raising funds for Operation Smile and we've thoroughly enjoyed his companionship throughout the years, whether it be on a medical mission or as a special guest to an event or fundraiser."
Jackie Chan was named an International Smile Ambassador for Operation Smile for his many years of generous support and advocacy. "I have personally experienced how this surgery is life-changing, and I am honored to have been a part of this program," said Mr. Chan.
For almost two decades, Jackie Chan has helped to spread awareness for children suffering from cleft lip and cleft palate. In 1993, he donated $2 million (HK) and an anesthesia machine to help Operation Smile provide free surgeries for more children in China. In 2009, during Operation Smile's 20th anniversary commemoration of its work in Vietnam, Jackie Chan along with Operation Smile Co-Founders Dr. Bill and Kathy Magee received the National Medal for Peace and Friendship Among Nations award from the Vietnamese government.