Model, actress and UNICEF UK supporter, Rosie Huntington-Whiteley, posted photos on Instagram of her journey to Cambodia's capital yesterday to make an appeal film to be broadcast on ITV's Soccer Aid on Sunday 8th June.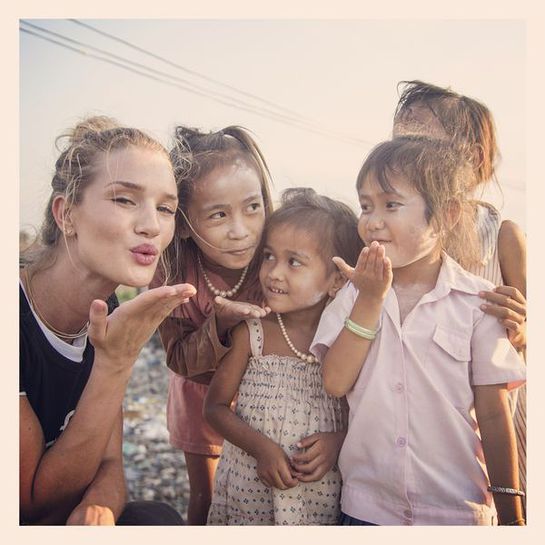 Rosie travelled with UNICEF, the world's leading children's organisation, to meet children living in overcrowded slum villages around the capital, Phnom Penh, who are struggling against poverty, hunger and disease.
"I've been so inspired by the children I've met on my first day in Cambodia, despite the conditions they live in," said Rosie.
"It was heartbreaking to meet a mum whose baby daughter died from diarrhoea when she was just six months old because of the sewage and dirty conditions. When children get ill here, they don't always have access to medicine or clean water to be able to get better."
"I was shocked to learn that around 50 children under the age of five die every day in Cambodia from diseases that can be easily prevented, like diarrhoea. Yet it costs so little to help save a child's life. That's why I'm supporting UNICEF's vital work through Soccer Aid, and you can too. Buy a ticket to the match at Old Trafford on Sunday 8th June to be a part of Soccer Aid and help UNICEF change children's lives all over the world."
Soccer Aid will be taking place on Sunday 8th June at Manchester's legendary Old Trafford stadium and will broadcast live on ITV. Two star-studded squads of football legends and the world's biggest stars will compete in an electrifying football match all in aid of UNICEF, the world's leading children's organisation.
Tickets are now on sale for Soccer Aid 2014, visit manutd.com/socceraid or call 0845 456 2014 (calls to this number will be charged at local rates). Go to unicef.org.uk/socceraid to find out more.