Actress, mother, and philanthropist Kelly Rutherford and Host of Oxygen's The Face and renowned fashion photographer Nigel Barker joined some of New York City's most influential voices debut a new video announcement on the Toshiba Vision screens in Times Square, to raise awareness about the power of mothers to create strong and healthy families and communities.
The new public service announcement was premiered at a special event with the Times Square signature "10, 9, 8…" countdown and will appear on the Toshiba Vision screens from April 23 through May 11, 2014.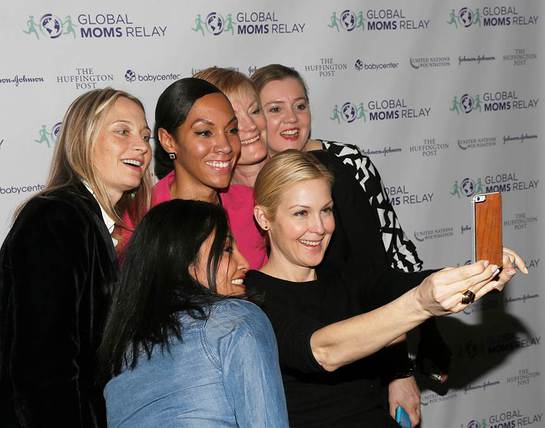 Susan Can, Director of Corporate Partnerships for Johnson & Johnson, Aaron Sherinian, Vice President of Communications and Public Relations for the United Nations Foundation, Eddie Temistokle, Senior Manager of Corporate Communications & CSR for Toshiba America Inc., and Jessica Prois, Executive Impact Editor for The Huffington Post also participated.
"My grandmother, mother, and wife have shown me the power of mothers to inspire, nurture, and guide their children to live a healthy and fulfilled life," said Nigel Barker, a Champion for the United Nations Foundation's Girl Up campaign. "Now as a father, I not only support my wife and children, but also want to support mothers and girls around the world so they can be the best they can be and create strong and healthy communities."
"Every mother wants to protect and provide a healthy and happy life for her child, but for some mothers around the world it is more difficult," said Kelly Rutherford. "As a mom, I want to help moms everywhere provide the best life possible for their children and the Global Moms Relay provides an easy way to do just that."
During the event, partners urged guests to participate in the Global Moms Relay, a digital dialogue between moms to increase donations to help mothers around the world have safe pregnancies, vaccinate their babies, and educate their children in support of the United Nations' Every Woman Every Child global movement. It is easy to join. Each time someone shares a relay post via social media, Johnson & Johnson will donate $1 (per action), up to $250,000, to help improve the health and wellbeing of moms and kids worldwide through the Mobile Alliance for Maternal Action (MAMA), Shot@Life, and Girl Up, three programs working to improve the health and wellbeing of women and children globally. It is also possible to Donate A Photo through the app for iOS and Android, and Johnson & Johnson will give $1, up to $100,000, when someone uploads a photo for Girl Up or Shot@Life.
"The health and well-being of women and children around the world is at the heart of Johnson & Johnson," said Susan Can. "That is why we are so happy to be a part of the Global Moms Relay. When we all come together to help support mothers and children, we have the ability to make a positive impact on their lives. Our hope is that the Toshiba Vision screens helps bring greater awareness to the importance of mothers, and generates additional support for the relay."
Created by the United Nations Foundation, Johnson & Johnson, BabyCenter, and The Huffington Post, the second annual Global Moms Relay launched on March 7, 2014 – the eve of International Women's Day – and culminates on May 11, 2014 in honor of Mother's Day. On May 7, participants of the relay will join hundreds of the brightest and most passionate people working to improve child, maternal, and reproductive health to share ideas and inspire action as part of the Mom+Social Good event at the Paley Center for Media in New York City. The event will also be broadcast globally via LiveStream.
"We are grateful to Toshiba America Inc. for helping put the conversation about women's health, girls and their moms at the top of Times Square and at the top of the global agenda. By dedicating time and space on the prestigious Toshiba Vision screens in one of the busiest and most important intersections in the world, we are raising the volume about an important message and a milestone movement of moms around the world. This helps us support the United Nations Every Woman Every Child efforts and UN Foundation campaigns that help girls and women around the world," said Aaron Sherinian. "This initiative and this partnership is an example of the new kind of global, digital engagement that can help us bring the promise of social purpose to scale."