It was a life-saving 48 hour marathon for the 472 pets who found new homes at the NKLA Adoption Weekend held at La Brea Tar Pits this past Saturday and Sunday.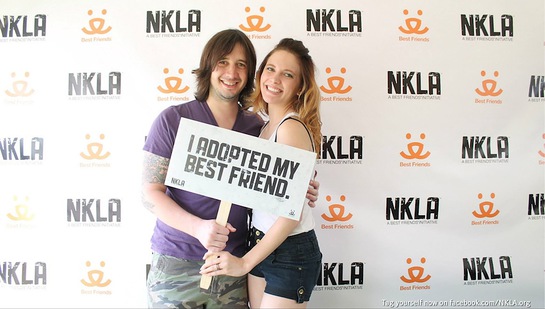 Dixie, a year old dilute Calico from Caring Cats, was adopted by Danielle Sheremetiev of Los Angeles. "I was looking for a kitten, but I fell in love with Dixie's personality and coloring. She will be a really good fit for my household," Sheremetiev said. "So many animals need homes. More people need to adopt."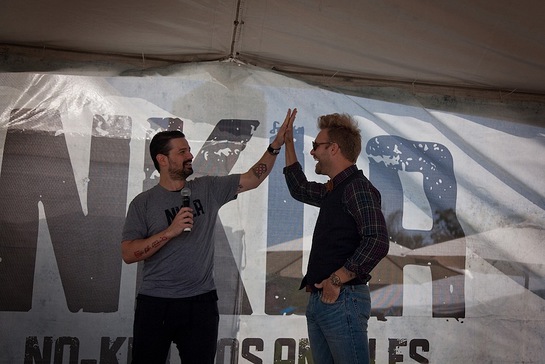 The popular event, hosted by Best Friends Animal Society as part of its NKLA (No-Kill Los Angeles) initiative, is one of several Best Friends "Super Adoptions" held nationally throughout the year. By bringing together NKLA coalition partners and passionate animal lovers eager to match shelters pets with loving families, the NKLA Adoption Weekend is a tangible way to save lives.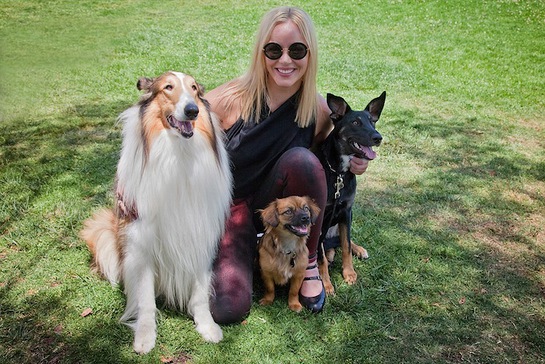 "Everyone at Los Angeles Animal Services is thrilled that we were able to find homes for so many amazing shelter pets," said Brenda Barnette, LAAS general manager. "Events like NKLA Adoption Weekend are great for letting the community see what fantastic companion animals can be found in local shelters."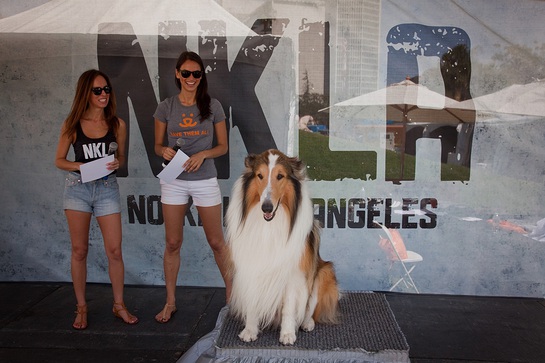 Pets at the NKLA Adoption Weekend came from a variety of local shelters and rescues, including LAAS and Best Friends Pet Adoption Center in Mission Hills, as well as NKLA coalition partners such as Border Collies in Need, Boston Buddies, Inc., German Shepherd Rescue Los Angeles, Wags N Walks, Labs and Friends.org, Angel City Pit Bulls, Kitten Rescue and A Cat's Tale were featured. Adoption fees started at $25 and all pets were spayed or neutered, vaccinated, and micro-chipped.
The free, family-friendly event featured L.A.'s hottest food trucks, the latest pet-related products and services from sponsors Pet Smart Charities, Natural Balance Pet Food, Banfield Pet Hospital, Mammoth Pet, and Dog For Dog.
Celebrity support was also in full force, ranging from musicians like Tomo Milicevic of 30 Seconds To Mars to actors such as teen heartthrob Lou Wegner, who is also the founder of Kids Against Animal Cruelty and award-winning photographer Seth Casteel. Iconic American hero dog Lassie also made an appearance, as did actress Abbie Kornish and musician Nick Wheeler of All American Rejects.
Style expert, stylist, host and blogger Sydne Summer was excited to be a part of the festivities. ""Almost every day, I get stopped by someone wanting to know what breed my dog is. I smile and proudly say she's a rescue," Summer said. "I think it's so important for people to know that there are incredible animals up for adoption, like my Pomeranian mix Bunny and her purebred Poodle friend Rosy. I'm just thrilled so many lovable animals found their forever homes this weekend."
Best Friends Animal Society is the only national animal welfare organization focused exclusively on ending the killing of dogs and cats in America's shelters. Best Friends is working collaboratively in Los Angeles with animal rescue groups, city shelters and passionate individuals who are all dedicated to the mission of making Los Angeles a no-kill city.
As part of this mission, Best Friends hosts adoption and fundraising events such as Strut Your Mutt and NKLA Adoption Weekends, runs both the Best Friends Pet Adoption & Spay Neuter Center in Mission Hills and the NKLA Pet Adoption Center in West Los Angeles, and leads the NKLA initiative.
The need for potential pet owners to adopt, not shop, for their four-legged family member is crucial, according to Marc Peralta, executive director of Best Friends Animal Society – Los Angeles.
"The sad truth is that 9,000 dogs and cats are killed in U.S. shelters every day. Best Friends Animal Society believes that number should be zero," Peralta said. "Watching the animal lovers of L.A. come together to put on the city's biggest adoption event is truly incredible. It's only by working together that we will Save Them All and turn LA into NKLA."