omaze.com is giving you the chance to go to the premiere of Mamma Mia! Here We Go Again and meet the cast.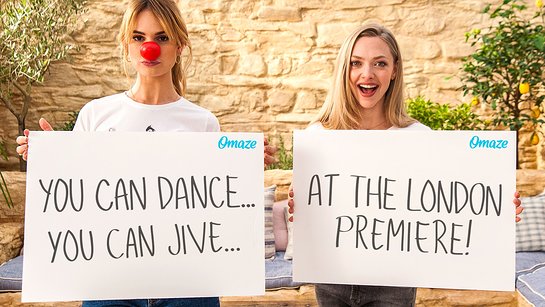 You're going to dance, jive and have the time of your life at the premiere of Mamma Mia! Here We Go Again. Pack your favorite pair of overalls, because you and a friend are off to London to hang with the cast and see the highly anticipated sequel before anyone else. First, your very own hair and makeup squad will get you red carpet ready. Then, you'll share a celebratory toast with Amanda Seyfried, Lily James, Dominic Cooper and more of the cast. (We can't promise Meryl will be there, but our fingers AND toes are crossed for you.) After that, you'll catch the premiere with writer Richard Curtis, hopefully dance in the aisles, and meet up with Pierce Brosnan and Colin Firth. One more thing: You also score tickets to Mamma Mia! the musical. The winner — you — takes it all! Flights and hotel included.
All you have to do is visit omaze.com and donate to Red Nose Day USA and Best Friends Animal Society. The more you donate, the more chances you have to win.