Earlier this week, Starlight Children's Foundation Global Ambassador and New York Times best-selling author Tony DiTerlizzi ("The Spiderwick Chronicles," "The Spider and the Fly," "Ted") and Starlight and Juvenile Arthritis Association (JAA) supporter and actress Teri Hatcher ("Coraline," "Desperate Housewives") entertained pediatric patients in treatment for juvenile rheumatoid arthritis at Children's Hospital Los Angeles (CHLA).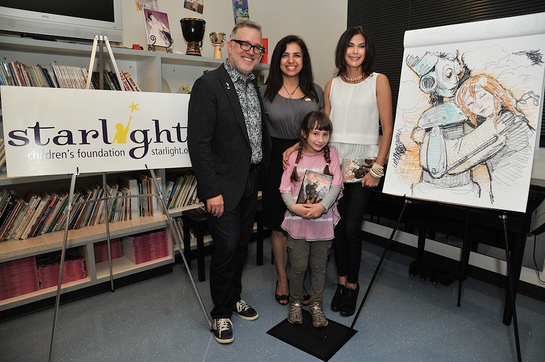 The pair entertained patients with a reading and illustrations from "The Search for WondLa," the first installment in DiTerlizzi's middle grade science fiction fantasy WondLA book triology.
Hatcher, who voiced all three audiobooks in the series, read selections from the book while DiTerlizzi brought the scenes to life through sketches. The children sketched along with the author who provided sketch tablets for each child who attended. DiTerlizzi is currently on a national book to promote "The Battle for WondLa," the trilogy's third book.
"Children are still children regardless of their circumstances," said DiTerlizzi. "They should be able to play, imagine, and explore. As a child, getting lost in the pages of my favorite books sparked my imagination and whisked me away from my mundane reality to fantastical, adventure-filled worlds. I feel that hospitalized children can truly benefit from the same experience."
DiTerlizzi continued, "I am thrilled that Starlight Children's Foundation shares this vision and that I am able to share my stories with young patients across the globe. I am honored to be affiliated with this wonderful organization and the children and families whose lives they improve."
Publisher Simon & Schuster generously donated copies of "The WondLa," the trilogy's first book, to Starlight who provided copies to all of the patients at the event. The book will also be offered to the more than 400 partner facilities currently on the charity's Starlight Wish List platform, an innovative online giving and product philanthropy marketplace that directly connects individual donors and charitable corporations to health care facilities around the U.S.
"Tony and Teri understand that hospitalization needn't prevent kids and families from experiencing all of the joy, wonder and creativity that childhood has to offer," said Starlight Global CEO Jacqueline Hart-Ibrahim who attended today's event. "We are so pleased to be here today with them, the outstanding CHLA staff and the pediatric patients and their families to support their fantastic entertainment and celebrate Simon & Schuster's generous donation of Tony's delightful book."
Dr. Andreas Reiff, MD, Division Head, Rheumatology, Children's Hospital Los Angeles praised the event saying, "This is a unique opportunity to shed some light on children with rheumatic disorders. There are more than 300,000 kids in the U.S. who suffer from these kinds of diseases, and very few people are aware of it. With the help of people like Teri, Tony, JAA and Starlight Children's Foundation, we finally have a platform to raise awareness and help kids."
For more than five years, Caldecott Honor winner DiTerlizzi has lent his creative talents and literary esteem to Starlight by raising funds and awareness for the organization. Hatcher is also a longtime supporter of Starlight having attended many events for the charity, including its annual fundraising dinner gala in Los Angeles, the Starlight Awards.