In a ceremony in New York's Times Square yesterday, Warner Bros. Consumer Products (WBCP) and DC Entertainment officially announced the launch of Superman Hall of Heroes, an online gift-giving portal that empowers consumers to honor their personal heroes – those who have made a positive impact on their lives or the lives of others.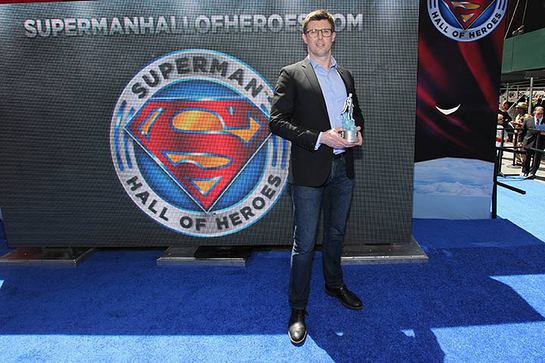 To mark the occasion, an inaugural class of notable heroes from diverse backgrounds was honored, among them, courageous military personnel, forward thinking educational leaders, heroes in public safety and inspirational athletes.
"For more than 75 years, Superman has inspired us to achieve heroic feats, act with moral integrity, and embrace our individuality," said Brad Globe, president of Warner Bros. Consumer Products. "WBCP and DC Entertainment are honored to launch the Superman Hall of Heroes, which pays tribute to everyday heroes who embody the attributes we admire in the 'Man of Steel.'"
Inspired by Superman and the character attributes that define the world's first and most recognized Super Hero – an American icon who represents unwavering morals and an endless pursuit of truth and justice – the Superman Hall of Heroes is a gift–giving program that offers a fun and inspirational way for fans to pay tribute to their heroes by submitting their photo and story online to www.SupermanHallofHeroes.com where it will be showcased in perpetuity. As part of their tribute, consumers can choose from multiple gift–giving options and levels. Through Father's Day, a portion of the proceeds from sales of Superman Hall of Heroes packages will go to The Christopher & Dana Reeve Foundation.
"The Superman Hall of Heroes provides a unique opportunity for everyone to celebrate those individuals – coaches, mentors, teachers, parents, friends and more – who have made a positive impact on their lives or on the lives of others," added Globe.
Annually, the Superman Hall of Heroes will induct a new class of nationally recognized heroes from all walks of life. The 2014 inaugural class of heroes includes athletes, military members, civic leaders and entertainers who, through their good works, inspire others to make a difference. During the ceremony at Military Island in Times Square, the following honorees became the first people inducted into the Superman Hall of Heroes:
• Alana Nichols – Paralympian athlete who is the first female athlete to win gold medals in both the summer and winter Paralympics Games
• Christopher Reeve –American actor, film director, producer, screenwriter, author and activist who achieved stardom for his portrayal of Superman and founded The Christopher & Dana Reeve Foundation, which advances research and quality of life initiatives in their relentless pursuit of cures for paralysis
• David Burke – Philanthropic celebrity chef who has volunteered his time and talent to countless organizations such as March Of Dimes, No Kid Hungry, Family Reach and the Charles Lafitte Foundation
• Dick and Rick Hoyt ("Team Hoyt") – Father and son duo who compete in athletic events to promote awareness of the physically challenged
• Jackie Robinson – Professional baseball player and civil rights activist who is remembered for becoming the first African American to play in Major League Baseball
• Jeff Charbonneau – 2013 National Teacher of the Year who started a program to help students get college credit for the classes they take in high school
• Robyn Rosenberger – Founder of Tiny Super Heroes, an organization that empowers extraordinary kids who are fighting to overcome illness or disability by providing them with capes
• Sal Giunta – Former United States Army soldier and the first living recipient of the Medal of Honor for service in Iraq and Afghanistan
• Salvatore Cassano – FDNY Commissioner who has been recognized five times for bravery over his 40 year career in public service and was instrumental in rebuilding the FDNY after the September 11 attacks. Cassano accepted on behalf of the entire FDNY
• Shaquille O'Neal – Retired professional basketball player and current television analyst who is an instrumental partner of the Boys & Girls Clubs of America, hosting several yearly events such as Shaq-A-Claus, Shaqs-giving and Toys for Tots
The Superman Hall of Heroes program will spread good will throughout the year with The Red Cape Crew, a community outreach initiative that will perform random acts of kindness in markets across the country. The Red Cape Crew will contribute to local community efforts and follow the examples set by heroes to make the world a better place, one good deed at a time. Fans can volunteer with and follow The Red Cape Crew at SupermanHallofHeroes.com/redcapecrew.
Ranging in price from $4.99 to $145.99, Superman Hall of Heroes offers unique gift giving packages available at multiple options and levels, giving consumers the opportunity to pay tribute to those who have made a positive impact on their lives or the lives of others. Each package comes with an induction certificate and permanent listing in the Superman Hall of Heroes. Additional package options include apparel and accessories, housewares, sports equipment and more. The Superman Hall of Heroes online gift-giving portal is currently only available to residents in the United States.