Three of Britain's highest-profile sporting heroes have joined forces to encourage the public to support UNICEF and the Glasgow 2014 Commonwealth Games by purchasing exclusive merchandise ahead of the Games this summer.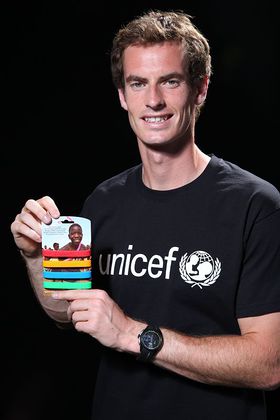 UNICEF, the world's leading children's organisation, and Glasgow 2014 have joined together in a ground-breaking partnership to make sure that the Commonwealth's poorest and most excluded children come first.
Six-time Olympic champion Sir Chris Hoy, Wimbledon Champion Andy Murray and Olympic Medallist Tom Daley are calling on sports fans to change children's lives by buying one of four exclusive products.
The products include bright and colourful trainer laces, gel bracelets in the official Glasgow 2014 Commonwealth Games colours, and a pin badge and key ring featuring the official Glasgow 2014 mascot, Clyde. At least 50p from every purchase will go to UNICEF to help transform children's lives.
UNICEF UK Ambassador Sir Chris Hoy said: "As a UNICEF UK Ambassador and proud Scot, I am delighted to be able to help raise awareness of this great partnership .We have a fantastic opportunity for the Games to change the lives of vulnerable children around the world. I have been lucky enough to see how UNICEF's work can change children's lives; I'll be wearing my UNICEF & Glasgow 2014 laces with great pride."
Andy Murray said: "It's great that the Glasgow 2014 Commonwealth Games are partnering with UNICEF in order to save and change children's lives across Scotland and the Commonwealth. Sport is a powerful way to transform children's lives, and I hope that these Games can be an opportunity for us all to support UNICEF's work. Just a small act like buying a pin badge or making a donation could make such a difference to some of the Commonwealth's most vulnerable children. It was a proud moment to be asked to get involved in the campaign and I look forward to continuing my relationship with UNICEF in the future and getting involved in some of the great work they do with children around the globe."
Tom Daley, who was one of the first people to welcome the Queen's Baton to the British Isles following its amazing journey across the Commonwealth, said: "It's so inspiring to know that at this year's Commonwealth Games, the athletes on the podium won't be the only winners. By purchasing one of these great products the public can help UNICEF and Glasgow 2014 save and change children's lives. Together we can put children first and make a real difference."
This is the first time the Commonwealth Games has had a global charity partner. It is a unique opportunity that will harness the power of sport to reach every child in Scotland and children in every Commonwealth country.
The Games will be a spectacular moment for sport and, through their partnership, UNICEF and Glasgow 2014 hope to make it a life-changing one for children across the Commonwealth. The 'Put Children First' partnership aims to create a legacy for children in every country in the Commonwealth, helping the Games live on through the lives of children.
Buy UNICEF official Glasgow 2014 Commonwealth Games merchandise that will help support children. Buy online at www.unicef.org.uk/glasgowshop.