Earlier this week, Prince Harry learnt about the pioneering efforts of a Brazilian hospital which treats patients with brain injuries and other neurological problems on the first day of his week-long tour of the Brazil and Chile began.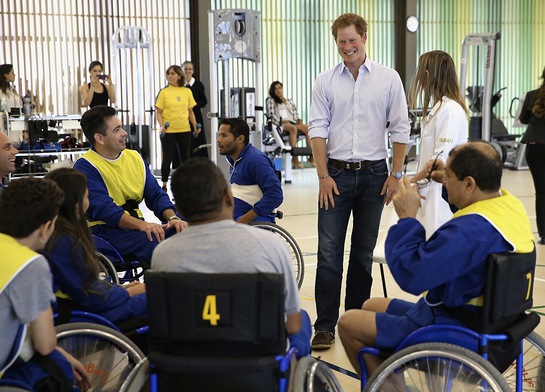 His Royal Highness watched as patients battled it out on court as they played wheelchair basketball to aid their recovery.
The Prince was visiting the Brasilia branch of the SARAH network of rehabilitation hospitals which has 10 units across the country. As the patients played Harry was briefed about the network's work by its president, neuroscientist Lucia Braga.
During his tour of the hospital Harry enjoyed watching a game of wheelchair basketball in the institution's sports centre overlooking the lake.
Later in a dance class, the Prince seemed impressed with the instructor's use of sticks to get the wheelchair-bound patients moving, saying: "That looks really cool, she really gets them moving."
His Royal Highness made a splash as he joined a stroke patient for some rehab therapy – in a canoe. Harry paddled his way around the lake in the three-man vessel as he learnt how the activity is used to help Brazilians with neurological conditions.
Sat behind Israel Lima, a 51-year-old who is recovering from a stroke, and in front of an instructor, the Prince confidently paddled his way across Lake Paranoa in time with the other men.
Out on the water they came across other patients being put through their paces in similar vessels and sailing boats.
Read more here.
Source: www.princehenryofwales.org