Mark Ruffalo is doing a really cool campaign to raise money for his charity, Water Defense.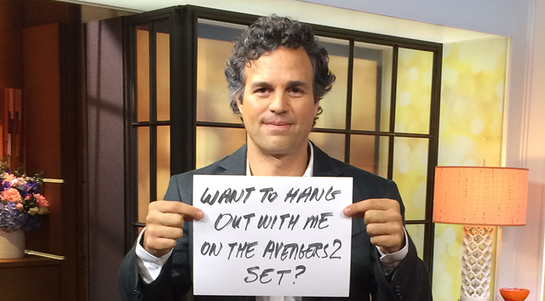 In exchange for a small donation, fans can enter to win a trip to London from anywhere in the world to spend a day with Mark on the set of The Avengers 2: Age of Ultron!
More than just a set visit, the winner will be his guest and he will show the person around and spend time with him/her.
"How would you like hang out with me on the set of The Avengers 2: Age of Ultron?" says Mark. "I'll get to that in a second! I'm here on Prizeo on behalf of Water Defense and the fight against water contamination. It's a cause that means a great deal to me, and I hope you'll take a second to read about it over on the right side of this page!
"If you support Water Defense with a small donation, you will be entered to win a trip to London to join me on The Avengers 2 set! Flights from anywhere in the world and hotel accommodations will be included. It will be a fun day at work for both of us!
"I am so thankful for your support. Thank you so much, and I look forward to meeting one of you very soon!"
The goal of Water Defense is to foster cumulative water testing and photo documentation of contamination in communities everywhere. Find out more here.
The campaign page is live now at www.prizeo.com/mark.