Today, TIME and its climate-action platform and new sustainability division TIME CO2 announced the inaugural TIME CO2 Earth Awards, a new editorial franchise and event extension that recognizes individuals from a range of disciplines who are influencing the future of the planet through their leadership on sustainability and climate.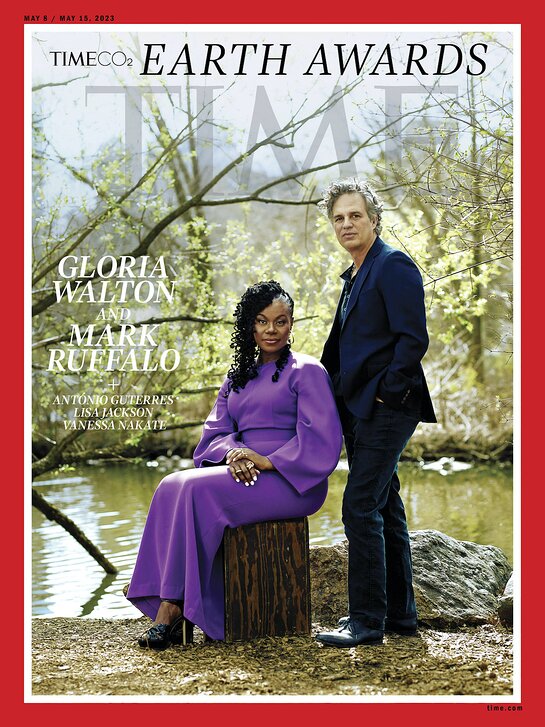 The inaugural TIME CO2 Earth Award recipients are: Mark Ruffalo, actor, director, producer, Co-Founder, The Solutions Project and Gloria Walton, President & CEO, The Solutions Project; António Guterres, Secretary-General of the United Nations; Lisa P. Jackson, Vice President of Environment, Policy and Social Initiatives, Apple; and Vanessa Nakate, climate activist and UNICEF Goodwill Ambassador.
To celebrate the honorees and spotlight climate-action leadership, TIME will host the TIME CO2 Earth Awards Gala at the Mandarin Oriental in New York City on April 25 following the 2023 TIME100 Summit featuring TIME CO2 earlier that day. TIME CO2 Earth Award honorees Lisa P. Jackson and António Guterres, co-executive chair of Galvanize Solutions Tom Steyer, and founder and president of Emerson Collective Laurene Powell Jobs will join TIME on stage for sustainability-focused conversations at the Summit. Deloitte is the Data & Insights Sponsor for the inaugural TIME CO2 Earth Awards Gala.
With TIME CO2 and the TIME CO2 Earth Awards, TIME continues to build on its long-standing commitment to sustainability through its award-winning editorial coverage and trusted reporting on climate change—from the iconic 1989 "Endangered Earth" Planet of the Year cover to TIME 2030, a decade-long global editorial initiative dedicated to the ongoing exploration of solutions to the world's biggest challenges and the leaders and innovators driving them. The TIME CO2 Earth Awards follows the recent launch of the new climate newsletter TIME CO2 Leadership Report by TIME's award-winning climate reporter Justin Worland, which debuted in early April.
"TIME's journalists capture the changing nature of influence across the globe. We believe climate leadership is one of the most significant and urgent forms of leadership today," said Sam Jacobs, Interim Editor-in-Chief of TIME. "We're thrilled to introduce the world to TIME CO2 and the TIME CO2 Earth Awards to continue this essential work."
"The TIME CO2 Earth Awards define what climate-action leadership looks like today and shine a light on the role that business leaders must play to power it." said Simon Mulcahy, President, Sustainability at TIME. "TIME CO2's mission to equip and empower climate leaders at every level. Together, we can create a world where every company is a climate company and every individual is a climate champion."
For a century, TIME has told the story of our world through the leaders who move it. Through TIME CO2—which launched in 2022 to help businesses to take real action to solve the climate crisis through high-quality Climate Action Portfolios—TIME is now expanding that focus to work with business leaders and individuals to champion climate action. TIME CO2 brings together the information, tools and community to accelerate climate action and drive measurable impact through science-first approaches.
Learn more about TIME CO2.