Prince Harry has made an impassioned plea for the nation to support his paralympic-style sporting championships for injured servicemen and women.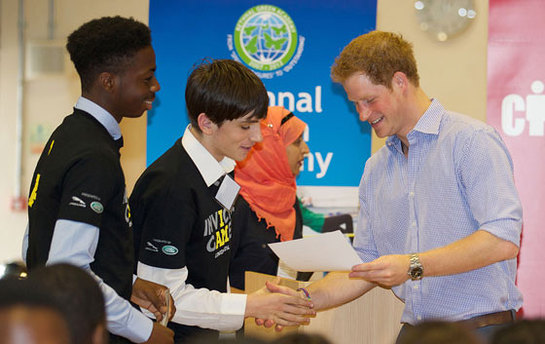 The Prince told a group of students who have become digital media champions for the Invictus Games that the event would be the "most amazing weekends of your lives".
He met more than 60 young people from six schools across east and central London during a visit to Bethnal Green Academy where they were being trained by Facebook in how to use social media to promote the sporting event being staged in the capital from September 10-14.
When he stopped in one classroom to join the students learning how to take pictures, he praised their enthusiasm and said: "We're very short on time, it's going to happen; what are we – a month and a half away from the actual Games.
"The more noise and the more enthusiasm you guys can get behind the Invictus Games, get your friends involved, buy some tickets, come down and scream and shout – I promise you, you will not regret it, it will be the most amazing weekend of your lives."
More than 400 wounded and sick servicemen and women from 14 nations – from countries like Canada, Iraq, Estonia and Italy – will take part in a variety of events from wheelchair rugby and athletics to power lifting during the Games being staged at the Queen Elizabeth Olympic Park and Lee Valley Athletics Centre.
As digital media champions, the students will have the opportunity to report from sporting sites on all the action and atmosphere.
During his visit to the academy Prince Harry stopped in a workshop being run by staff from Facebook and sat with the students listening to advice on how to make interesting posts.
He told the group that his team would also be putting information on Facebook and Twitter.
Organisers hope that the students will be able to use social media to generate interest in the Games.
Speaking at the certificate presentation ceremony The Prince highlighted why he had decided to bring the concept of the Games from the United States, where a version has been staged for a number of years, to the UK.
He said: "Some of these guys shouldn't be alive but they are, they've put themselves back out there – they want to put a show on for you guys, for us, that's the selfless commitment.
"They don't see this as anything else apart from 'right we're going to put on a show for the British public to say thank you'."
He added: "They want to say thank you to us whereas I'm trying to get us to say thank you to them."
Source: www.princehenryofwales.org