Bollywood actress and UNICEF India Goodwill Ambassador, Sharmila Tagore, and actress and UNICEF Celebrity Advocate, Kareena Kapoor Khan, joined former BBC war correspondent and UNICEF UK Ambassador, Martin Bell OBE and UNICEF UK Deputy Executive Director, Anita Tiessen at The Ritz on Wednesday evening (20th August) for a dinner to support UNICEF's education work for children in India.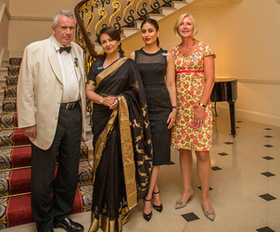 Speaking at the event, Sharmila Tagore, who is celebrating ten years as a UNICEF India Ambassador, said; "Over the last ten years, I've seen first-hand, the work UNICEF does to ensure that the rights of every child are realised. Education is one such right. It is the passport to life; without it children are less healthy, less skilled, have fewer choices and less hope for their future. Yet, sadly, access to education still remains a challenge, for millions of children in India. I am privileged to be associated with UNICEF and support their work to improve the lives of children in India."
UNICEF India Celebrity Advocate, Kareena Kapoor, urged guests to pledge their support for UNICEF, commenting: "I recently visited Rajasthan with UNICEF to see child friendly schools and to meet some of the girls and boys that are benefitting from these programmes. I was inspired to see spaces which are child friendly. These are places where children are full of joy when they interact with teachers, where children feel safe and secure and where interactive and creative tools are used to ensure that children are happy and learning."
Anita Tiessen, UNICEF UK Deputy Executive Director, said: "Sadly quality education still remains a challenge in India, particularly for girls – where the dropout rate at primary level is 41%. This is often because of attitudes towards the value in girls having an education or schools not having adequate and safe sanitation facilities. When girls drop out of school they become more vulnerable to child marriage, early and unsafe pregnancies, and it has a lasting impact on their future earning power.
"By working with the Government and partners to roll out our education programmes in India, UNICEF can ensure more children, both boys and girls, are going to school, learning, and have a better chance of reaching their full potential."