The Avon Walk for Breast Cancer Santa Barbara took place over the weekend and one special walker was Mike Dirnt, bassist for the rock band Green Day.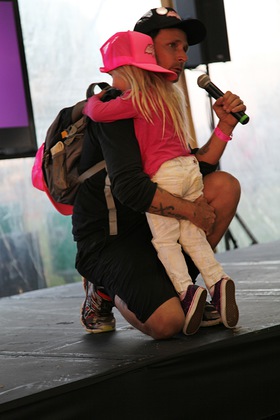 Mike walked in support of his wife, Brittney Cade Dirnt, who was diagnosed with breast cancer this past April at the young age of 31. Mike and their family participated in the Avon Walk to show their support not only for Brittney, but for everyone currently fighting this disease.
"I was moved by the Avon Walk this weekend," said Mike Dirnt, "My wife is currently battling this disease, so it was both inspiring and encouraging to speak with survivors and their loved ones."
The Walk raised $4.6 million to accelerate breast cancer research; improve access to screening, diagnosis and treatment; and educate people about breast cancer. The Avon Walk Santa Barbara – the sixth of eight 2014 Avon Walks across the country – attracted 2,000 participants from 41 states and Washington, D.C. In addition, 297 breast cancer survivors and 274 men joined together to raise lifesaving funds for breast cancer.
To find an Avon Walk near you, click here.