The UK's top football players today take on their most challenging opponent yet as the England Footballer's Foundation (EFF) team up with UNICEF, the world's leading children's organisation, in a new four year partnership that will help tackle malaria; a disease that still claims the life of a child every thirty seconds.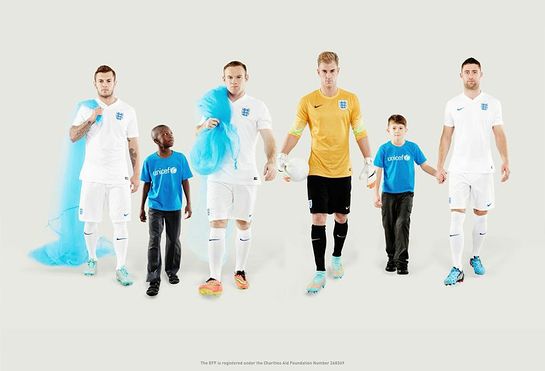 Whilst the players are more used to finding the back of the net on the pitch, the EFF and Unicef partnership will see them use their global status and appeal to raise funds and awareness, both at home and around the world, about the danger of Malaria and the benefits of sleeping under a mosquito net.
In Africa malaria is the biggest killer of children under five and globally it is the third single biggest killer of children. The poorest most vulnerable children are in the greatest danger, but sleeping under a mosquito net can offer them life-saving protection.
To launch the partnership England captain Wayne Rooney, along with goalkeeper Joe Hart, defender Gary Cahill and midfielder Jack Wilshere feature in a striking image alongside children from William Shrewsbury Primary School, Burton upon Trent.
England captain, Wayne Rooney said: "It's unbelievable that every ninety minutes – the time it takes to play a football match – 180 children will lose their lives to malaria. As captain of the England football team I am hugely proud that we are able to help Unicef in its goal of protecting every child in danger from this disease."
England and Manchester City goalkeeper Joe Hart said: "I am used to defending my goal net against some of the best players in the world, but for some children, being able to sleep under a life-saving mosquito net can mean the last line of defence from this deadly disease. I have always been a huge fan of Unicef's work so it's really amazing that through our Foundation we can help make a difference to the lives of some of the world's most vulnerable children."
Unicef UK Executive Director David Bull said: "The simplest way to keep children safe from malaria is to ensure that they sleep under a mosquito net, but many are still living without this basic life-saving need. The faces of the England football team are some of the most recognisable in the country so it is great to have them on board to help us raise awareness to tackle malaria and protect all those children in danger."
Last year the EFF also supported Unicef's Typhoon Haiyan children's emergency appeal following the catastrophic tropical storm in the Philippines.

The England Footballers Foundation are joining Team Unicef, a community of fans, players and organisations who love sport and want to make a lasting difference to the lives of the world's most vulnerable children.
Source: UNICEF UK