The International Rescue Committee hosted its annual Freedom Award Dinner last week, raising more than $4.5 million to support the organization's lifesaving humanitarian aid work around the world.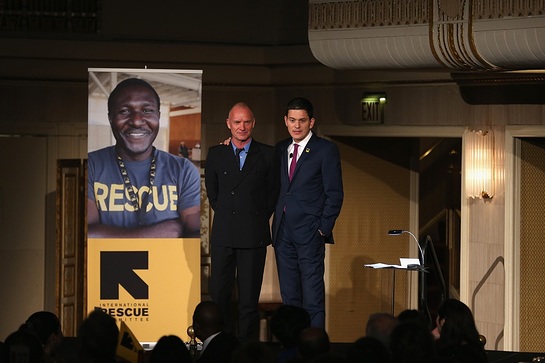 This year's event, which took place at the historic Waldorf Astoria Hotel in New York City, honored long-time IRC supporters Cliff and Laurel Asness and Ken and Vickie French with the Humanitarian Leadership Award.
IRC President and CEO David Miliband helped kick-off the evening with Opera Sensation and IRC Voice Danielle de Niese. De Niese performed breathtaking renditions of "O Mio Babbino Caro" and "Somewhere Over the Rainbow."
Refugees Najwan Alani and Boubacar Barry shared their stories about coming to the United States as refugees and how the IRC's work has helped them build a home in America. CBS Evening News anchor, Scott Pelley, and Wendy Taeuber, IRC County Director in the South Sudan, also spoke about the IRC's life-changing work around the world – highlighting that there are more refugees than ever before, making the IRC's work even more vital and necessary.
Additional supporters in attendance included Mikhail Baryshnikov and IRC Voices Piper Perabo and Nykhor Paul.
To round out the evening, Miliband took the stage to announce that the IRC has been named the first, official charity partner of the Times Square Alliance for New Year's Eve. He then welcomed surprise guest, Sting, who was set to perform but could not, as he was under the weather.
"What David asked me to do tonight I cannot do, as you can hear from the sound of my speaking voice," Sting commented as he took to the stage. Instead of his planned performance of "Message in a Bottle," the music sensation expressed his great admiration for how the IRC is utilizing the power of community to carry out their mission.
"What I heard tonight were people from all over the world telling stories," he said. "Storytelling and listening to stories is the basis of community, and the basis of everything is community."
Sting then joined Miliband in announcing the names of the IRC Executive Directors, Country Directors and other humanitarian aid workers who were in the audience at the event to stand up and be recognized for their hard work and dedication.
"Who better to applaud the rock stars that I admire every day for their courage inspiration than a real rock star?" Miliband said with a smile.
The Co-Chairs for this year's Freedom Award Dinner are Maurice R. Greenberg, Starr International Foundation/The Starr Foundation, Ruth & David Levine, Gillian M. Shepherd, Eduardo G. Mestre, Kathleen and Omar Saeed and Catherine and Tracy Wolstencroft. Vice Chairs include The Partners of AQR Capital, Paul E. Singer Foundation, Katherine Farley, Jerry I. Speyer, Marie and Joseph Field, Evan G. Greenberg, ACE Group, Judy and Josh Weston, Maureen White, and Steven Rattner.