More than 400 shelter pets found themselves in new homes on Saturday and Sunday, thanks to the NKLA Adoption Weekend held at La Brea Tar Pits.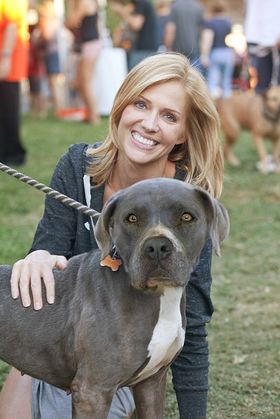 The popular event is hosted by Best Friends Animal Society as part of its NKLA (No-Kill Los Angeles) initiative to make Los Angeles the nation's largest no-kill city by 2017. It is one of several Best Friends "Super Adoptions" held nationally throughout the year and one that brings out several celebrities who support pet adoption.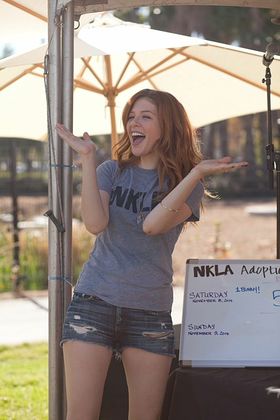 Marley, a senior Yorkie mix, was the first adoption at the event. "This is our fourth time coming to the event. Usually we just look, but today, Marley came up to my mom and she fell in love," said Trivial Swain of Los Angeles. "Adoption is the right thing to do."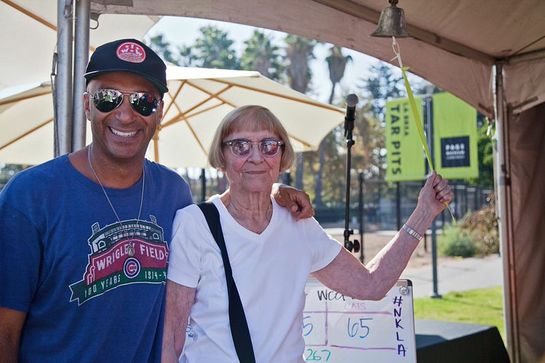 Celebrities including Emmy Rossum, Rachelle Lefevre, Linda Hunt, Tricia Helfer, Bonnie-Jill Laflin, Tom Morello, Michael Lomenda, Jack McGhee, Melissa Ordway, Justin Gaston and @TunaMeltsMyHeart (a rescued Chiweenie who rose to Instagram fame with more than 1 million followers), showed their support for NKLA Adoption Weekend and the importance of pet adoption.
The celebrities appeared on stage before heading over to greet adopters and ring the adoption bell every time a pet found a new home. In addition to supporting the cause, Rossum, Laflin and Lomenda each went home with a new best friend.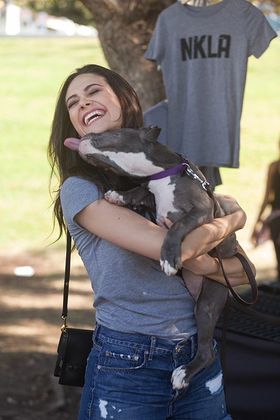 Rossum adopted a black and grey Lhasa Apso mix named Sheila from Baldwin Park Shelter, renaming her Pepper to fit in with her rescue dogs Sugar and Cinnamon.
"The work that Best Friends Animal Society and the NKLA coalition are doing to make Los Angeles a no-kill city is very important to me, not just because I love animals, but also because I live here," said Rossum, who stars in "Shameless" on Showtime. "Thousands of wonderful dogs and cats are dying in our nation's shelters every day simply because they don't have homes. I encourage everyone to adopt their next pet and to spay or neuter their pets. If we work together, we will save them all."
Pets at the NKLA Adoption Weekend came from a variety of local shelters and rescues, including Los Angeles Animal Services and Best Friends Pet Adoption Center in Mission Hills, as well as NKLA coalition partners such as Wags N Walks, Labs and Friends, Angel City Pit Bulls, Boston Buddies, Caring Friends Cat Rescue and Kitty Bungalow. Adoption fees started at $50 and all pets were spayed or neutered, vaccinated, and micro-chipped.
"Everyone at Los Angeles Animal Services is thrilled that we were able to find homes for so many dogs and cats," said Brenda Barnette, LAAS general manager. "Events like NKLA Adoption Weekend are great for letting the community see what fantastic companion animals can be found in local shelters."

Adoption is crucial to end the killing of approximately 9,000 dogs and cats in American shelters each day, according to Marc Peralta, executive director of Best Friends Animal Society – Los Angeles.
"By adopting a pet, you're potentially saving two lives – the one you take home and the one who now has a space at the shelter," Peralta said. "If you didn't get a chance to come to
NKLA
Adoption Weekend, check out the incredible dogs and cats available at a shelter or rescue near you."