William Shatner has just launched a Kickstarter project to produce his new book, "Catch Me Up".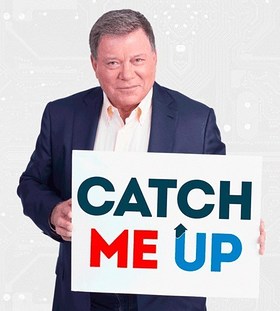 The book features interviews between Shatner and people over 50 who redefined themselves by embracing new technology and accepting new challenges at a later stage of life.
"Catch Me Up" introduces a fresh, modern approach to teaching seniors how to leverage their lifelong skill sets to create viable businesses and become entrepreneurs.
"I've been unemployed over 400 times in my life. More importantly I have had to reinvent myself 400 times to get re-hired by TV shows, movie producers, and even by Priceline.com when I was over 60 years old.
"Seniors have much to contribute in today's world. But in order to do that, they have to catch up to the technology of the day."
Shatner is utilizing Kickstarter so he can collaborate directly with backers and fans to produce a project he is very passionate about.
"I'm encouraging people to use new tools like Kickstarter, so I thought why not create this book the same way?"
Shatner partnered with technical advisor Matt Andrews to create this project. Andrews serves as a liaison to the latest generation of entrepreneurs and aids Shatner in his mission is to teach seniors how they can leverage their skills in the modern day.
Multiple rewards are available for backers on Kickstarter ranging from a $10 digital version of "Catch Me Up", to a $10,000 VIP reward that includes an evening with William Shatner himself.
"My mission is to change the perception that many seniors have about new technology. With the right knowledge, technology stops being daunting and confusing and becomes empowering and fulfilling!"
William Shatner gained worldwide fame and became a cultural icon for his portrayal of James T. Kirk in the science fiction franchise Star Trek. He has starred in television dramas The Practice, its spin-off Boston Legal, and can be seen as the primary spokesman for Priceline.com.
For more information, visit www.catchmeup.com.
Source: PR Newswire