The Prince of Wales praised the work of the Cystic Fibrosis Trust as he marked becoming its Patron by visiting patients and staff at a leading hospital.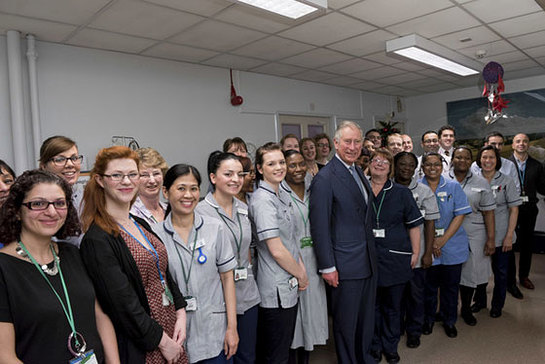 His Royal Highness toured the cystic fibrosis centre at the Royal Brompton Hospital in London and chatted to people receiving treatment.
The trust is now in its 50th year and in May The Prince succeeded Princess Alexandra, who had been Patron since 1968.
In an impromptu speech during his visit, The Prince told leading figures from the Trust and the Royal Brompton: "I just want to say, I'm so delighted to have a chance to visit the hospital and the unit here, which I know does such wonderful work on the cystic fibrosis front.
"But also I'm so proud to have become patron of the Cystic Fibrosis Trust in its 50th anniversary year.
"Over all those years I know the Trust has battled in the most remarkable way, together with so many people like yourselves who help to assist patients with this appalling condition.
"I just wanted to use this opportunity not only to salute you all for the work you do, but also to wish all those who I know are doing such good work in finding better and better answers to dealing with this condition every possible success in the future."
The Prince also visited people on the hospital's Foulis Ward, which is dedicated to treating cystic fibrosis patients.
The condition is an inherited disease caused by a faulty gene which controls the movement of salt and water in and out of cells. It causes lungs and digestive systems to become clogged with mucus, making it hard to breathe and digest food.
The Prince chatted to Nicholas Mason, 25, whose lungs have been damaged over the years so he now breathes with the help of an oxygen cylinder.
The chemist, from Steyning in West Sussex, told His Royal Highness he was receiving treatment for a recurring infection but should be discharged in time for Christmas.
He told The Prince: "Earlier this year I was in for about seven weeks. It gets better, sometimes it gets worse – this admission is going quite smoothly."
Before leaving, The Prince learned about the Trust's ambitious plans for the future, including SmartCareCF, whereby equipment used to monitor patients can now send the information via a smartphone to doctors, saving on appointments and allowing medical staff to spot problems earlier.
Ed Owen, Chief Executive of Cystic Fibrosis Trust, said: "As a long-time supporter of people with cystic fibrosis, the Prince has a deep understanding of the challenges that people with the condition face, including the daily burden of physiotherapy, nebulisers, dozens of pills and exercise, as well as regular hospital visits and admissions."
He added: "Today less than half of people with cystic fibrosis will die before their 40th birthday, but we are committed to changing this. We are redoubling our efforts to beat cystic fibrosis for good, and the Prince's support will provide a powerful beacon of hope for all those touched by the condition."
Source: www.princeofwales.gov.uk