It wouldn't feel like the holidays on larger U.S. bases around the world without a ranking general and a celebrity crew touching down on a nearby tarmac.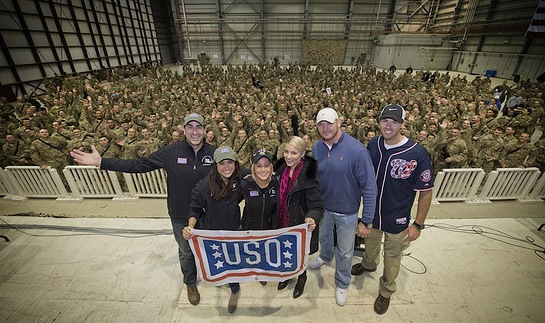 Chairman of the Joint Chiefs of Staff Army Gen. Martin E. Dempsey knew service members who lined up to meet his touring USO troupe didn't take the experience for granted.
"In my dealings with the USO over the past few years, spearheading tours around the globe, I can confidently say that the USO is as helpful and comforting today as it was back [when I joined the Army]," Dempsey said in a press release. "This year's tour has been just as memorable."
Dempsey's fourth and final USO Chairman's Holiday Tour kicked off recently. The group hit five countries in six days, bringing holiday cheer to thousands of deployed troops along the way.
This year's star-studded cast included USO tour veteran and country star Kellie Pickler, 2007 USO tour veteran and comedian Rob Riggle, "Glee" co-star Dianna Agron, former Chicago Bears linebacker Brian Urlacher, "Suits" co-star Meghan Markle and Washington Nationals pitcher Doug Fister.
"This is my eighth USO tour, and it is honestly a joy for me to be able to bring a piece of home to our service men and women while they serve abroad," Pickler said in a release.
The USO has been partnering with the chairman's office since 2000 to organize holiday tours with celebrity entertainers. It's Dempsey's final tour as chairman, as his second two-year term as the top military adviser to the president expires next October.
Dempsey isn't the only USO holiday tour headliner who's donned a military uniform. Riggle, who rose to fame on Comedy Central's "The Daily Show" and has since had a host of roles on TV and the big screen, was an active duty Marine from 1990 to 2000 and served an additional decade-plus in the Marine Corps Reserve before retiring in January.
"As a Marine, who not only served active duty but also reserves for the vast majority of my life, it is hard for me to see this tour as just a weeklong trip," Riggle said. "Being with [Dempsey] and back on a USO tour again is much like returning home for me. There is definitely comfort in this visit and I am honored to be a part of it."
Source: USO.org