Access Hollywood Live co-host and Access Hollywood correspondent Kit Hoover is supporting the ASPCA (The American Society for the Prevention of Cruelty to Animals) through a campaign with We-Care.com, an online shopping portal that raises funds for nonprofit organizations.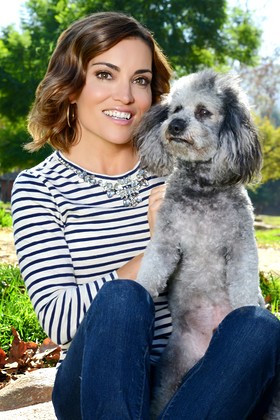 Hoover will be featured on a special We-Care/ASPCA page through the month of February, photographed with rescue dogs Webster, Beau and Bronco and voicing her support for the work of the ASPCA. The We-Care/ASPCA page also features an opportunity to win a visit to the set of Access Hollywood Live.
The We-Care/ASPCA page invites people to select the ASPCA as their charity of choice on the We-Care portal — meaning that every time they shop their favorite retailers via We-Care.com, a portion of their purchases will be donated to the ASPCA at no cost to the consumer.
"We are so pleased to have Kit Hoover join the We-Care/ASPCA campaign, sharing her genuine enthusiasm and dedication to rescue animals as she encourages consumers to support the work of the ASPCA by doing some online shopping," says Bryan Cockerham, General Manager, We-Care.com.
"We're delighted that Kit Hoover is lending her voice to help support animals in need," says Helene Gordon, Sr. Director, Licensing for ASPCA. "Kit is a wonderful advocate for rescue animals, and we're thrilled that she's spreading the word about ways people can support the ASPCA's life-saving work."
"I have a lifetime of experience with the joys of rescue animals, so I couldn't be happier to support this important campaign — especially because it involves one of my favorite activities: shopping!" says Hoover. "You can do something wonderful for an animal who needs you simply by doing something you love to do anyway."
Broadcast journalist, sportscaster, and television personality Kit Hoover is the co-host with Billy Bush of Access Hollywood Live as well as a correspondent for the show on NBC. Previously, she hosted Real Simple, Real Life (TLC), was a correspondent for the TV Guide Channel, and co-hosted ESPN's Cold Pizza, covering tennis, the Olympics, Super Bowls, and baseball's World Series, among other major sports events. Hoover, a native of Atlanta, began her television career as a cast member on the reality TV series Road Rules (MTV), later joining FOX News and hosting FOX Rules with Kit Hoover.
At her home in Los Angeles, California, Hoover and her husband, Crowley Sullivan, and their three children have four rescue animals: cats Prince Harry and Button, Pickles the bunny, and Dr. Disco Bubbles the guinea pig.