Demi Lovato is featured on the cover of the latest issue of Unite4:Good magazine.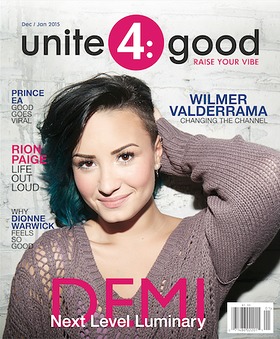 The world-famous pop-star shines a light on the Lovato Treatment Scholarship, and one of the biggest challenges facing the next generation: currently one in four adults suffers from a mental illness.
"The problem is that people look at it as if it's not a real illness… You have to realize that the brain is an important organ, too," she says.
Demi Lovato partnered with CAST Recovery to create The Lovato Scholarship in honor of her father, Patrick Lovato, who passed away in part due to untreated mental health and addiction issues.
The Lovato Scholarship covers expenses for individuals struggling with mental health and/or addiction issues, including the costs of CAST's Transitional Living and clinical services provided through CAST's Outpatient Program. Demi has battled these issues throughout her life, and she understands what is at stake. However, effective treatment is costly, and many can't afford the care that they need.
To find out more about the magazine, click here or visit them on Facebook.