Vanity Fair and the Chrysler brand hosted a private cocktail party at Cecconi's on Thursday to toast director Richard Linklater and the cast of the Academy Award–nominated film, Boyhood, as part of Vanity Fair Campaign Hollywood.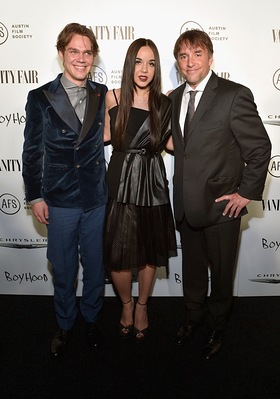 Guests enjoyed Grey Goose Vodka's 2015 Award Season Collection and the brand-new Grey Goose VX.
Among those who attended were Boyhood director Richard Linklater, cast members of the film including Patricia Arquette, Brad Hawkins, Ellar Coltrane, Zoey Graham, Lorelei Linklater, as well as Candice Accola, Amanda Crew, Nolan Funk, Annabeth Gish, Melora Hardin, Tyler Hoechlin, Ben Robson, Brittany Snow, Karla Souza, Sam Tsui, Chris Wood, and many more.
The event was held in support of the Austin Film Society, an organization that empowers the community to make, watch and love film and creative media. Founded in 1985 by Richard Linklater, the Austin Film Society opened in 2000 through a lease with the City of Austin, AFS attracts film development and production to Austin and Texas. Gala film premieres and the annual Texas Film Awards raise funds and awareness of the impact of film on economy and community. Austin Film Society is ranked among the top film centers in the country and recognized by the National Endowment for the Arts and Directors Guild of America.