The American Lung Association's LUNG FORCE initiative congratulates Academy Award nominee Laura Dern for her acclaimed performance in the movie adaption of Cheryl Strayed's 2012 memoir "Wild," in which she portrays Strayed's mother, Bobbi Lambrecht, who died of lung cancer only seven weeks after being diagnosed.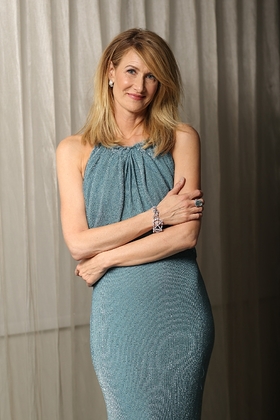 To help elevate awareness of the American Lung Association's LUNG FORCE initiative, Dern and Strayed debuted statement jewelry featuring LUNG FORCE's signature color, turquoise, on the red carpet and later, Dern donned a turquoise Badgley Mischka dress at the exclusive Vanity Fair After-Party.
"When I first got involved in the project, I was so moved by Cheryl and her mother's story," Dern said. "And after researching the role, I was shocked to learn that lung cancer is the number one cancer killer of women, but only one percent of women say lung cancer is even on their radar. That's why I'm asking all women to unite and share their voices to fight this deadly disease. Go to LUNGFORCE.org to see how you can get involved."
Strayed added, "I know very personally how lung cancer affects women – no one should have to lose their mother the way I did. That's why I feel an obligation to help unite all women so we can – one day – defeat this disease."
LUNG FORCE, which is nationally presented by CVS Health, works to make lung cancer in women a public health priority, drive policy change and increase research funding. In 1987, lung cancer surpassed breast cancer as the leading cancer killer of women, and is projected to kill more than 71,000 American women in 2015, accounting for about 26 percent of all female cancer deaths.
"Cheryl's very moving story embodied by Laura's breakthrough performance in 'Wild' is a powerful reminder of the need to fight this deadly disease," said Harold Wimmer, National President and Chief Executive Officer of the American Lung Association. "Through this, we aim to continue to raise awareness of lung cancer and, ultimately, defeat lung cancer. The time for change is now."
Visit LUNGFORCE.org to learn more, or join the conversation on Facebook at Facebook.com/LUNGFORCE or on Twitter at Twitter.com/LUNGFORCE.