Prince Harry has announced he will walk with five wounded service personnel on part of their 1,000-mile (1,609km) trek around mainland Britain later this year.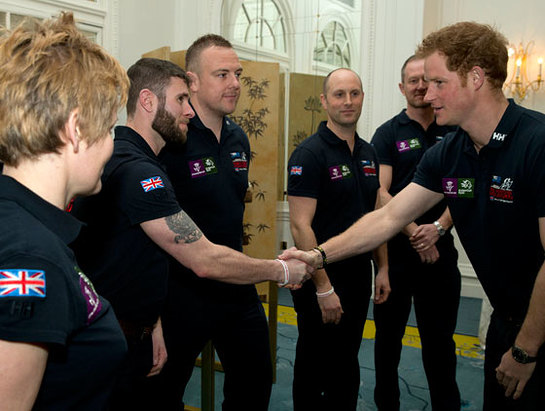 The Walk Of Britain is designed to raise awareness of the work of the charity Walking With The Wounded, which supports injured members of the armed forces back into independence through employment.
Those taking part in the walk will engage with local communities every day to highlight the determination of wounded personnel and raise awareness of the work the charity is doing in the community to support them.
The five will be joined by other wounded personnel each week in different parts of the country.
The walk will start on August 22 in Scotland and finish in London on October 31.
Prince Harry met the expedition team of four men and one woman at a reception at the Mandarin Oriental hotel in Knightsbridge, central London, to launch the challenge.
In a short speech, the Prince said: "It is an honour to be stood on this stage as we announce that Walking With The Wounded is coming home to walk amongst the people they have helped and the communities who have supported our armed forces so enthusiastically.
"I'm delighted to say that I will be joining the team for a small part of their journey and I'm hugely looking forward to it."
Prince Harry said the British trek would be just as difficult as previous expeditions around the world.
"Walking With The Wounded has given men and women the opportunity to push themselves to extremes in some of the most inhospitable places on Earth – both the Poles and Mount Everest," he said.
"The challenge we are launching today, although closer to home, is no less formidable in scale – walking 1,000 miles around Britain".
Prince Harry, who is Patron of Walking With The Wounded, has supported the charity since it was formed, taking part in a trek to the North Pole in 2011 and South Pole in 2013. He was also Patron of its Everest expedition in 2012.
Prince Harry has said his experience in the Army will stay with him for the rest of his life and he considers himself "incredibly lucky" to have had the chance to carry out challenging roles.
During his 10-year full-time military career, he went on two tours of duty to Afghanistan and qualified as an Apache aircraft commander.
In the autumn, he will volunteer with the Ministry of Defence's Recovery Capability Programme, supporting the rehabilitation of wounded, injured or sick service personnel where he has worked previously.
Source: www.princehenryofwales.org