The ongoing collaboration between The Lincoln Motor Company and actor Matthew McConaughey enters a new phase as the luxury automaker will donate to the Academy Award winner's just keep livin Foundation.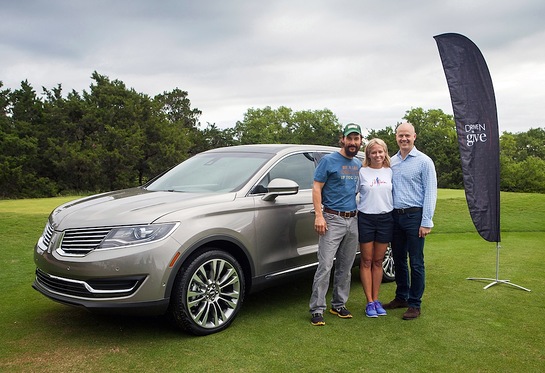 This year, for the first time, Lincoln dealers will have the option to choose McConaughey's just keep livin Foundation as the first national charity to be part of this program. For every test drive taken in the new 2016 Lincoln MKX midsize crossover, on sale later this year, $20 will go toward the just keep livin Foundation.
"The tremendous work Matthew does through his just keep livin Foundation is one of the reasons why he is such a great fit with Lincoln," said David Rivers, Lincoln U.S. Marketing Communications Manager. "Matthew is authentic, warm and genuine, and of course a great storyteller. We're pleased to add our support by making a national charity part of our Driven to Give program for the first time."
Test drives that support charities are a cornerstone of Lincoln's philanthropic efforts. Through its Driven to Give program, Lincoln has donated more than $4 million to schools and charitable organizations nationwide since 2011.
"A key reason why I chose to collaborate with Lincoln is because it is a brand that works hard to make a difference," said McConaughey. "On behalf of the just keep livin Foundation, we genuinely appreciate this added support from Lincoln, and look forward to reaching and assisting even more young people going forward."
The just keep livin Foundation, started by McConaughey and his wife Camila in 2008, is dedicated to empowering high school students by providing them with the tools to lead active lives and make healthy choices for a better future.
It works with schools to reach the maximum number of teenagers with the greatest needs, partnering with other non-profit organizations in each local community to implement after-school fitness and wellness programs in inner-city high schools.
"We all are stewards of tomorrow's world, and that starts with providing impactful guidance and meaningful support to today's young people," said Shannon Mabrey Rotenberg, Executive Director, just keep livin Foundation. "This new collaboration between Matthew and Lincoln will assist the just keep livin Foundation as it continues to help shape a better future."
The programs encourage students to make positive life choices to improve their physical and mental health through exercise, teamwork, gratitude, nutrition and community service.
A 501c3 non-profit organization, the just keep livin Foundation serves over 2,000 students through 24 programs in California, Texas, Louisiana and Washington, D.C.
Source: BusinessWire.com