University of Vermont's (UVM) Pi Kappa Alpha Fraternity and Alpha Chi Omega Sorority beat out the more than sixty student organizations on college campuses across the country in the fight to raise the most funds for the Alzheimer's Association as part of Hilarity for Charity's (HFC) nationwide collegiate program Hilarity for Charity U (HFC U).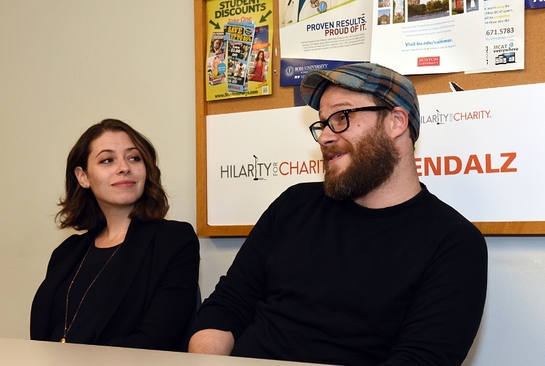 To thank the HFC U winners, Seth Rogen, Lauren Miller Rogen and Christopher Mintz-Plasse, spent Saturday morning with UVM Pi Kappa Alpha Fraternity (PIKE) and Alpha Chi Omega Sorority for a special screening of "Superbad." Rogen, who wrote and appeared in "Superbad," and Christopher Mintz-Plasse, who played the classic character of "McLovin," provided live commentary during the screening to a packed auditorium of students.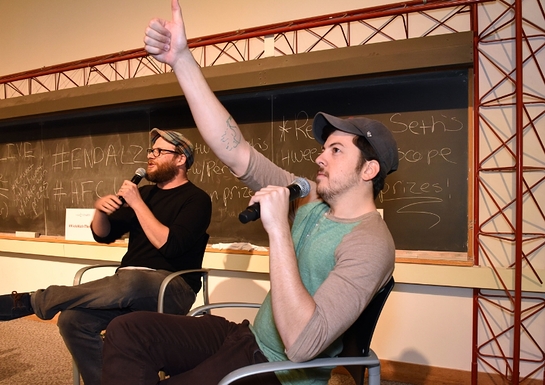 "We were pumped to celebrate the accomplishment of University of Vermont's Pi Kappa Alpha and Alpha Chi Omega in helping us raise much needed funds to end Alzheimer's," said Rogen. "I hope other college students see this event as motivation to get involved in the Alzheimer's cause because, hey, you could meet me."
HFC U is a nationwide program that encourages college groups to throw Hilarity for Charity events to raise awareness and funds to fight Alzheimer's disease. The University Of Vermont's Pi Kappa Alpha Fraternity and Alpha Chi Omega Sorority raised more than $30,000. The HFC U program raised more than $200,000 since its inception, benefiting the Alzheimer's Association.
"With the number of people with Alzheimer's expected to grow dramatically, it is especially important to engage and educate a younger generation – and that is what we are trying to do through HFC U," said Miller Rogen. "We are thrilled by what the UVM PIKEs and Alpha Chi Omegas accomplished this year and can't wait to kick-off our next HFC U challenge in the fall."
More than five million Americans are living Alzheimer's disease. Barring the development of medical breakthroughs to prevent, stop or slow Alzheimer's disease, the number of people with the disease is expected to triple by 2050. Alzheimer's disease is also the costliest disease to society and the sixth-leading cause of death in the United States, and the only top 10 cause of death without a way to prevent, cure, or slow its progression.
HFC is a unique movement that uses the power of laughter to bring attention to Alzheimer's disease. It is led by the husband and wife team, Seth Rogen and Lauren Miller Rogen. Established in partnership with the Alzheimer's Association, HFC is dedicated to raising both awareness and funds for the cause with a specific emphasis on engaging younger generations.
To learn more about HFC U and how to get involved, please visit www.hilarityforcharity.org/hfcu.