In celebration of National Adopt a Shelter Pet Day, radio host and entertainer Lance Bass and his husband Michael Turchin have joined The Shelter Pet Project in two new videos to share the love and joy that their adopted pets bring to their lives.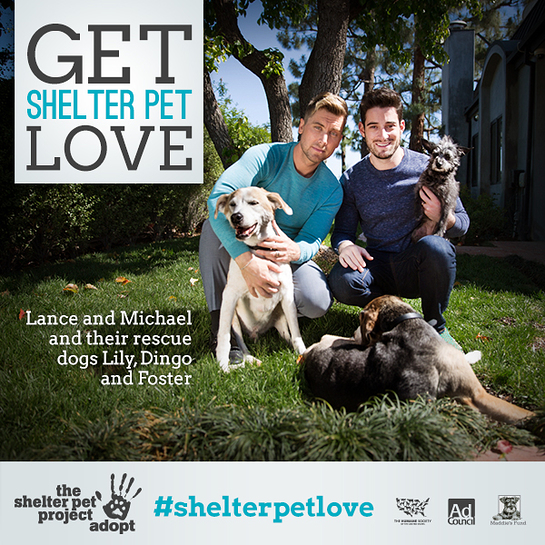 Bass, Turchin, and their rescued dogs, Lily, Foster and Dingo, are the stars of a new online video in the "Meet My Shelter Pet" series from The Shelter Pet Project. The Shelter Pet Project is a national public service campaign developed by the Ad Council, The Humane Society of the United States and Maddie's Fund.
Its videos showcase the unique bonds between shelter pets and their owners, and direct viewers to their local shelter and rescue groups, where they can find amazing dogs and cats available for adoption. A second video, narrated by Bass, highlights the importance of shelter pet adoption and provides viewers with more information on how to adopt, while also addressing several misconceptions about the adoption process.
"Michael and I are so happy to be a part of this campaign and to be able to share the love that we have for our adopted dogs, Lily, Foster and Dingo," said Bass. "They are a huge part of our life — they were even in our wedding! I urge everyone looking for a new pet to adopt. The joy is unimaginable. Our shelter dogs are the most loyal, wonderful companions imaginable, and we are so lucky to share our lives with them."
The Shelter Pet Project has helped positively change the perception of shelter pets. In the past year alone, over 503,000 people searched for dogs and cats available for adoption on the campaign website.
"Shelter pets are the best, and we are delighted that Lance and Michael have lent their support to our mission to ensure every shelter pet finds a loving family," said Betsy McFarland, vice president of companion animals for The HSUS. "The tragedy of dogs and cats being euthanized in shelters for lack of a home is a solvable problem if more people simply choose to adopt from a shelter or rescue."
Shelter pet adoptions are on the rise in the United States, with the American Pet Product Association reporting that 37 percent of dogs and 46 percent of cats in American homes today came from shelters or rescue groups. However, 2.4 million healthy and treatable pets still need to find loving homes each year. The Shelter Pet Project's goal is to bring that number down to zero.
"Lance and Michael's story highlights the amazing relationships between people and their shelter pets, and we hope that their story inspires others to adopt," said Rich Avanzino, Maddie's Fund president. "We are especially excited to release the video that breaks down the myths associated with shelter pets and shelter pet adoption. If just a small percentage of people looking to acquire a pet in the next year chose to adopt, we would realize our goal of ensuring all healthy and treatable pets find homes each year. Lance has it right: 'the biggest benefit of all is that when you adopt a shelter pet, you save a life.'"
"This campaign is bolstered by the love and adoration of real pet owners," said Ad Council President and CEO Lisa Sherman. "Without the support of people like Lance and Michael, shelter pets would not be given the voice they deserve. I am so proud that they have joined our cause and are willing to give voices to the millions of shelter pets who are still looking for their forever homes."
To view the videos or for more information about The Shelter Pet Project, visit TheShelterPetProject.org.