Lang Lang, one of the world's most famous classical pianists performing today, has stepped up to fight the global ivory trade in a stirring new public service announcement (PSA) to be distributed throughout his native China, the world's largest market for ivory.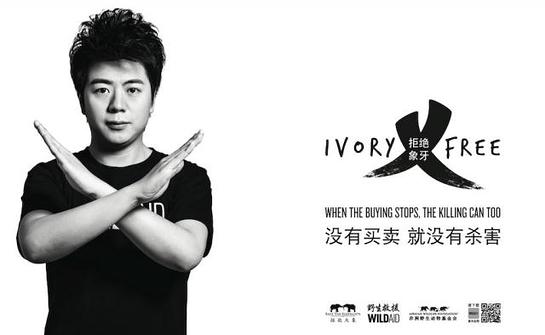 As part of the Ivory Free campaign sponsored by WildAid, African Wildlife Foundation and Save the Elephants, Lang Lang's PSA aims to educate the public on the toll that both legal and illegal ivory sales are taking on Africa's elephants: An estimated 33,000 are poached annually.
Last week, Lang Lang appeared with Beijing Airport Customs officials sponsored by WildAid and the Wildlife Conservation Society to launch an awareness campaign at Beijing Capital International Airport, urging travelers never to bring ivory back into China, which in March implemented a one-year ban on ivory carving imports.
"I hope all passengers know the facts, that bringing ivory home will not only escalate the poaching crisis and devastate the ecological balance, but also will break laws and regulations," Lang Lang said. "Please support our Customs and say 'no' to ivory."
At the Thursday event, customs officials announced that they had confiscated over 1 ton of ivory products in 258 smuggling cases over the past year. Most of seized ivory had been smuggled in from African nations including Burundi, Côte d'Ivoire, Angola and South Africa.
The new PSA featuring Lang Lang's performance of Beethoven's Sonata "Appasionata" will be distributed via WildAid's Chinese media partners, who donate nearly $200 million (USD) in annual pro bono media placement. Produced in English and Mandarin versions, the PSA also features the work of award-winning photographer Nick Brandt, founder of Big Life Foundation and a frequent contributor to WildAid media campaigns.
As demonstrated in two recent surveys commissioned by WildAid, African Wildlife Foundation and Save the Elephants, a strong majority of citizens in Hong Kong and mainland China support such a ban. A survey released Tuesday by the University of Hong Kong's Public Opinion Programme found that 75% of Hong Kong residents expressed support for outlawing ivory sales, which are currently poorly regulated in Hong Kong.
Meanwhile, major public awareness campaigns by WildAid and state media have helped to increase mainland Chinese consumer awareness of the ivory trade's devastating impact.
"We're seeing growing effort and resolve in the part of the Chinese government on this issue. A total ban on ivory sales would be the next logical step for China's stepped-up efforts, and would be the greatest single measure to reduce poaching in Africa," said WildAid CEO Peter Knights.
Lang Lang joins WildAid ambassadors including Yao Ming, The Duke of Cambridge, David Beckham and Chinese actress Li Bingbing on educating the public about the ivory trade.
Source: WildAid