Celebrity TV presenter Jeff Brazier was joined on Wednesday by schoolchildren and dignitaries to signal the start of construction of a new 'home away from home' in central London for families whose children are being treated at Evelina London Children's Hospital.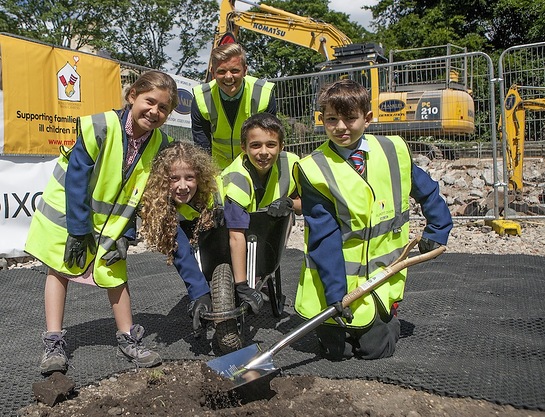 The new Ronald McDonald House Evelina London will have 59 en-suite bedrooms where families can stay free of charge, as well as communal kitchens, lounges and playrooms. Families will be able to stay for as long as they need – enabling them to be on hand for their child at a moment's notice.

Jeff Brazier – a familiar figure to many as a presenter of ITV's This Morning and father to the late Jade Goody's children – donned a hard hat and took up a spade to break the ground to mark the start of construction on a site just a few minutes' walk from the children's hospital.
He was ably assisted by pupils from nearby Fairley House during a ceremony attended by representatives from Guy's and St Thomas' Charity, which provided the land for the new House and helped to bring together the parties involved in the project, and Guy's and St Thomas' NHS Foundation Trust which includes Evelina London.
The new purpose-built facility will be run by Ronald McDonald House Charities – an independent charity that provides free accommodation on or near hospital grounds across the UK.
Jeff Brazier marked the start of construction by announcing a partnership with Ronald McDonald House Charities in which he will offer pro bono life coaching sessions to parents, siblings and other family members who are staying at its Houses. Having single-handedly raised his two sons, Bobby and Freddy, since their mother Jade Goody passed away six years ago, Jeff has become a qualified life coach who draws on his experience as a single parent of children dealing with grief.
Jeff said: "Whether or not you are a parent, you can imagine what families who have children in hospital must be going through. Parents have the sick child to worry about and, on top of that, keeping the rest of the family together. Then there is the cost of being far from home. I've visited other Ronald McDonald Houses and have been impressed by the support they provide."
Guests also heard from Jon Haward, Director of Ronald McDonald Charities, who said: "Each year thousands of children are admitted to Evelina London Children's Hospital for treatment, and having somewhere to stay free of charge and a place to unwind away from the hospital makes a big difference to these families at a stressful time.
"I am pleased that Ronald McDonald House Charities has been able to work with partners to provide a much-needed facility that will make a real difference to families from London, south east England and further afield who are treated at Evelina London."
Dr Grenville Fox, consultant neonatologist and clinical director for the Neonatal Intensive Care Unit and medical specialties in Evelina London Children's Hospital, said at the event: "We're seeing more children having to travel ever greater distances for medical treatment. Some are with us for as little as a day, while others stay for many months.
"This new Ronald McDonald House will provide much-needed support and enhance our family-centred care. I am sure it will prove very popular with families."
The new House replaces the Charity's 20-bedroom House near Guy's Hospital, providing a larger facility which is closer to Evelina London. With the hospital's planned expansion and wider geographical catchment area across the south east and beyond, demand for family accommodation has increased considerably
For more information about Ronald McDonald House Charities visit www.rmhc.org.uk.