The Prince of Wales and The Duchess of Cornwall, joint Presidents of the charity Elephant Family, hosted a reception at Lancaster House in London this week in support of Asia's endangered elephants.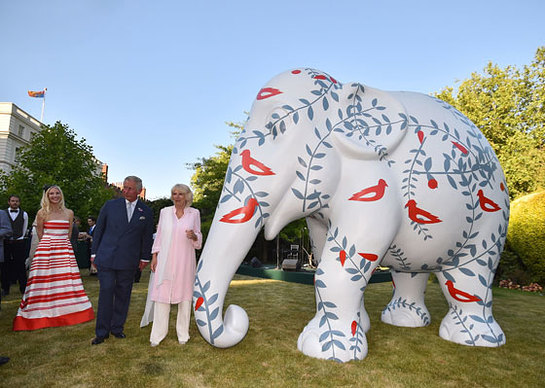 The event highlighted a global "auto rickshaw", or motorised rickshaw, race which will take place later this year. The race will involve a fleet of the vehicles, individually designed by international artists, milliners and fashion designers.
In November some 30 rickshaws will journey 500km across Madhya Pradesh, India in support of the cause.
The event is called Travels to My Elephant and is inspired by the charity's late founder and The Duchess's brother Mark Shand, whose rescue of an Asian elephant, Tara, led to its creation. His adventures were recorded in his best-selling book Travels on my Elephant.
Mr Shand, who died in New York in April last year, dedicated his life to saving Asia's elephants.
His Royal Highness said everyone was at the event "to ensure that dear Mark's hard-won legacy is maintained and enhanced".
The Prince added: "I can't help thinking he would have been so pleased to know if he had been with us that we have just met the representatives of four conservation charities who are partnering with Elephant Family with the aim of unlocking GBP20 million pounds to secure 100 elephant corridors across India by 2025.
"This evening's events are designed to highlight the quest to save Asia's endangered elephants from a frighteningly precipitous decline.
"There may be no more than 50,000 left in total in the wild across the 13 countries where they are literally clinging to survival.
"Sadly, it is the case that the pressures of finite space and the needs of an unsustainably growing human population have brought us into conflict with these remarkable creatures.
"Witnessing this conundrum, Mark's vision was simple but profound; the elephants can survive only if forests survive."
Later in the evening, the rickshaws were auctioned to support Elephant Family's projects.
Source: www.princeofwales.gov.uk