World-renowned DJ Steve Aoki has joined The Humane Society of the United States (HSUS) and its global affiliate, Humane Society International (HSI), in their combined efforts to combat wildlife poaching.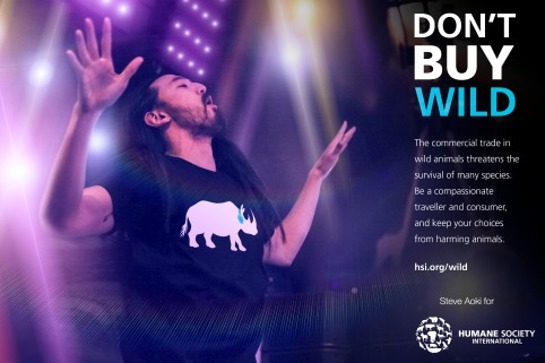 "Once you learn how rhinos are being slaughtered for their horns near the point of extinction, you just can't sit back and do nothing," says Aoki. "We as a species have done enough damage to the planet and to the animal kingdom. It is imperative for us to take a stand, raise awareness on these issues, and do whatever we can to stop poachers from killing our beautiful wildlife for some false belief of medicinal value in rhino horn or a stupid trinket to put on your mantle. I implore my fans to join me in supporting wildlife conservation efforts by The Humane Society of the United States and Humane Society International. The very least you can do is wear my cool t-shirt!"
Aoki also designed a limited edition t-shirt available at Represent.com/SteveAoki, featuring artwork of a rhino donning headphones and the artist's name on it. All proceeds from the sale of his shirt will benefit The Humane Society of the United States.
More information on the rhino horn trade can be found here.