Baby Buggy Founder Jessica Seinfeld and Tod's Creative Director Alessandra Facchinetti co-hosted a Summer Luncheon and special preview of Tod's Fall-Winter 2016 Collection Friday afternoon in Amagansett, NY, in support of Baby Buggy's work.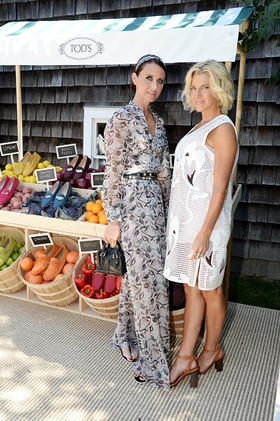 The intimate gathering of about 75 guests included Mamie Gummer, Neil Patrick Harris, David Burtka, Gayle King, Michelle Hicks, Emily Meade, Ali Wentworth, Cristina Ehrlich, Rightor Doyle and Tali Lennox.
Designer Alessandra Facchinetti, who flew in from Milan, reimagined the Seinfeld's barn to become a pop up shop offering an intimate group of guests a first chance to order her fall collection. The event, that was designed with a rustic décor, included a farm stand which included the iconic gommino loafer in a variety of bright colors.
Alessandra Facchinetti said: "I'm enthusiastic to be a part of this initiative and to support Baby Buggy, a charity that we have been a longtime supporter of. As an Italian company, that always pays attention to giving back and being charitable. Charity is part of our culture at Tod's. We are engaging in important projects all over the world. A special thank you to Jessica Seinfeld who opened up her home to us to for this event, and for letting me get the chance to experience the Hamptons for the very first time."
Baby Buggy takes an innovative, child-focused approach to curbing generational poverty. By tying access to critical child gear items to parental enrollment in anti-poverty programs, Baby Buggy provides for the safety and health of a child while parents get the long-term support they need to help lift the family out of poverty. To date, Baby Buggy ha s provided more than 16 million items to more than 139 anti-poverty programs in the United States.