Hot Topic, the loudest store in the mall, is tapping into its music roots with the launch of the Bring Music to Schools, Bring Music to Life campaign featuring the band Fall Out Boy for Back-To-School.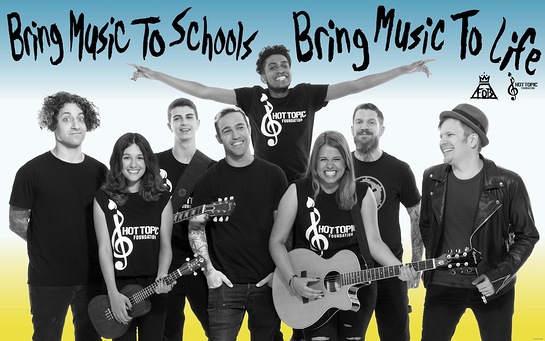 The campaign highlights Hot Topic's round-up initiative, in which customers are invited to "round-up" their in-store or online purchases to the nearest dollar. The difference is donated to the Hot Topic Foundation to support non-profit organizations – including Little Kids Rock, Notes for Notes and the Grammy Foundation – which inspire young people through music and the arts. The Hot Topic Foundation has raised approximately $1 million since the launch of the round-up program last August.
"At Hot Topic, music is part of our DNA," said Lisa Harper, Chief Executive Officer of Hot Topic, Inc. "So it's exciting to be able to give back and support that same passion in young musicians. It's really amazing to see what a little 'change' can do."
Hot Topic's Bring Music to Schools, Bring Music to Life campaign features students from Little Kids Rock, a non-profit organization that provides free music instruction and instruments to under-served public schools across the U.S., alongside one of their favorite bands, Fall Out Boy, in an effort to inspire and foster the next generation of musicians. The campaign, which includes print, digital and social media, launches in all Hot Topic stores in the U.S., Canada and Puerto Rico at the end of this month, and in Alternative Press magazine in August. Check out behind-the-scenes footage from the shoot with Fall Out Boy here.
Hot Topic will also offer various promotions during back-to-school including:
• Pack It Up Backpack Offer: Purchase a backpack and get 30% off all the apparel you can stuff in it, plus 30% off the backpack, too.
• $25 Jeans When You Buy 2 or More: Select denim styles are $25 each when you purchase 2 or more.
• Hot Cash: Receive a coupon for $15 off a future purchase of $30 or more with each qualifying purchase.
Since its founding in 2004, the Hot Topic Foundation has gifted approximately $12 million to arts and music organizations for youth. Most recently, the Hot Topic Foundation made its largest grant to date – a $500,000 contribution to Notes for Notes, a non-profit organization dedicated to giving youth a profoundly positive experience via completely free access to music instruments, instruction and recording studio environments. The funds will assist the charity with national expansion. The newest Notes for Notes studio is scheduled to open in Detroit in August 2015 and was fully funded by the Hot Topic Foundation.