Twilight actress Nikki Reed recently helped a disabled girl in Moreauville, Louisiana, save her dog after local authorities banned certain breeds.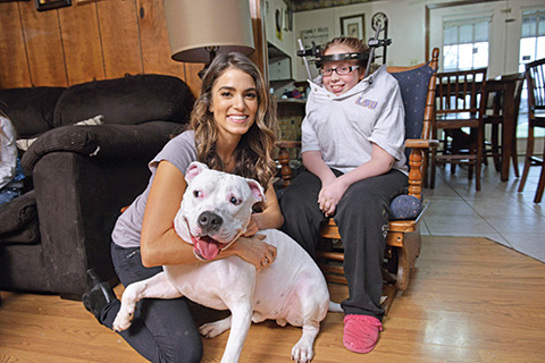 O'Hara Owens has to wear a neck brace and use a wheelchair, and relies on her dog Zeus to give her support. But when a new law banned pit bull-type dogs, it meant O'Hara would either have to give him up or move.
From The Humane Society of the United States Kind News magazine:
"O'Hara's family wasn't going to lose Zeus without a fight. Joanna Armand, O'Hara's mom, started a petition online. Before long, their story spread across the country, getting coverage on national television and reported in newspapers. Thousands of people signed the petition. Even Twilight actress and animal lover Nikki Reed got involved.
"The actress believes that it's not certain breeds, or kinds of dogs, that are dangerous. Dogs can become dangerous if they are abused or not trained properly. "But that's the fault of the human being, it's not actually the fault of the breed," she says.
"With pressure from the public and animal welfare groups like The HSUS, Moreauville's leaders decided to change the law. Instead of banning breeds, they would enforce leash laws to keep dogs from roaming and becoming problems.
"O'Hara and her family were thrilled to have Zeus back in their lives."
Source: Humane Society