In honor of National Toilet Paper Day, Charmin hosted a live comedy show with comedian and improv artist, Wayne Brady, on Tuesday, August 25, 2015 in New York City.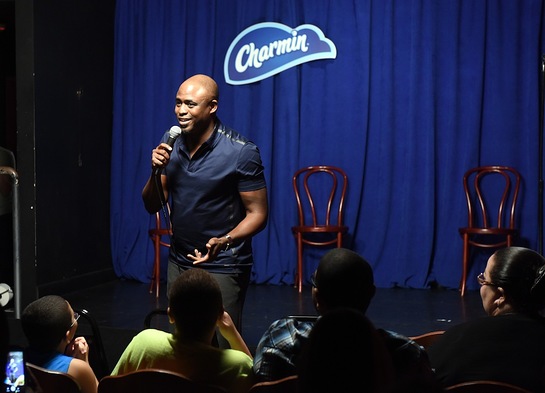 The showcase gave young comics a platform to deliver five minutes of their best clean potty humor routines in front of a live audience. By night's end, Wayne Brady crowned Heaven and Cristal, two New York City high school students, the winners of the 'Keep It Clean Comedy Show.'
The event, hosted by Wayne Brady, featured eight high school students and aspiring comedians between the ages of 14-18 who were judged on their ability to successfully deliver bathroom humor and innuendos without involving explicit or gross content.
"As a brand synonymous with superior clean, Charmin believes that a creative, G-rated one-liner can get anyone laughing," said Eric Breissinger, P&G Family Care Vice President. "Through the 'Keep It Clean Comedy Show' we're cleaning up potty humor so it can be enjoyed by all ages, because after all, we want to help everyone 'Enjoy The Go.'"
Charmin and Brady are also encouraging people at home to get involved by tweeting their best clean #PottyHumor jokes to @Charmin. For each tweet received throughout the month of September, the brand will be donating $1 to Ronald McDonald House Charities (RMHC), up to $10,000. RMHC provides stability and vital resources to families so they can get, and keep, their children healthy and happy through programs like Ronald McDonald House, Ronald McDonald Family Room and Ronald McDonald Care Mobile that enable family-centered care.
"Making people smile has always been something that has been close to my heart and motivated me as a performer," says Brady. "Working with Charmin to donate to Ronald McDonald House Charities, which is a charity I'm very close to, has made this a special cause."
Brady, who has been entertaining audiences with his singing, acting and unmatched improvisational skills for well over a decade, was excited at the opportunity to combine charity and comedy.
The young New York City high school students who participated in the show were coached by professional comedians in preparation for the event. The show was held at a Lower East Side comedy theater on East 3rd St. in New York City.
A grand prize of $5,000.00 was awarded to Heaven, Cristal and their school's theater department to help further their comedic educations.