For National Adopt-A-Dog Month, MTV2 is getting into some heavy petting. That's when dogs and cats will invade the channel to launch MTV2's #Down2Adopt, an on-air and online campaign to make shelters and rescue groups the go-to choice when looking for your new best friend.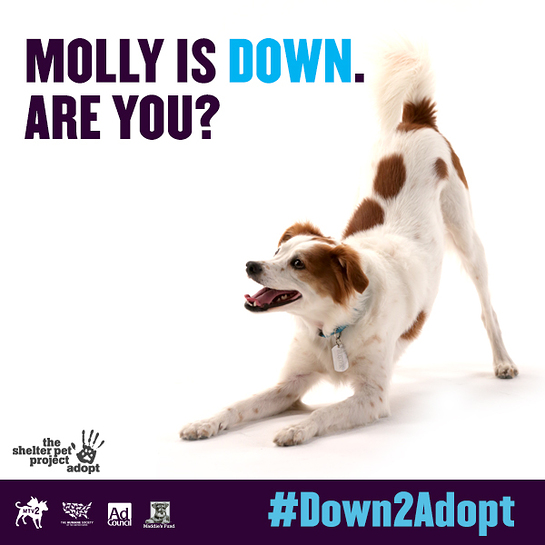 MTV2 will showcase adoptable shelter and rescue pets during the year-long campaign as they join forces with The Shelter Pet Project, a national public service program from the Ad Council, The Humane Society of the United States and Maddie's Fund.
#Down2Adopt launches with a series of video pet biographies featuring the voices of Kristen Bell, MTV2's Charlamagne Tha God and MTV2's Carly Aquilino comically narrating stories of how some dogs and cats found themselves in shelters.
The Ad Council will also distribute the videos as PSAs to over 33,000 stations. The PSAs will air in donated media across the country. To view #Down2Adopt pet biographies, click here. Kristen Bell's video is also available here.
Each year 6 to 8 million dogs and cats find themselves in shelters, but only half will be adopted. The MTV2 #Down2Adopt digital hub will connect animal lovers with their local shelters and provide ways they can help the estimated 2.4 million shelter pets who lose their lives in shelters each year. #Down2Adopt's digital hub will also highlight the benefits of adopting a pet from a shelter or rescue group over purchasing from a pet store or breeder.
The campaign will also consist of social media extensions throughout the year. Puppy lovers and MTV2 viewers can follow Joey, a two-month old Boxer/Pit Bull as he prepares for his adoption on MTV2's Instagram as part of an ongoing monthly spotlight on an adoptable pet. Joey made his MTV debut at the 'Pupparazzi Pen' on the 2015 MTV Video Music Awards red carpet last month.
"#Down2Adopt is about letting our audience know that, if they're looking for a pet, the humane, stand-up choice is to make a shelter or rescue group your first stop," said Chris McCarthy, General Manager of MTV2. "Shelter pets are every bit as healthy, well—behaved, and worthy of love and adoption as any pet, and we can't think of a better place to shine a light on a few of these beautiful animals and launch #Down2Adopt than on MTV2."
#Down2Adopt is a collaboration with The Ad Council, The Humane Society of the United States and Maddie's Fund and will piggyback off of their already established public service campaign, The Shelter Pet Project, which first launched in 2009.
"We're so excited to launch this heartwarming and entertaining campaign with MTV2 that will reach new audiences with our Shelter Pet Project messages," said Lisa Sherman, President and CEO of the Ad Council. "With MTV2's creativity and cross-platform reach, I'm hopeful that we can find loving homes and families for countless pets in shelters across the country."